Event Date:
Friday, March 2, 2018 - 8:00pm
Saturday, March 3, 2018 - 8:00pm
Sunday, March 4, 2018 - 2:00pm
Tuesday, March 6, 2018 - 8:00pm
Wednesday, March 7, 2018 - 8:00pm
Thursday, March 8, 2018 - 8:00pm
Friday, March 9, 2018 - 8:00pm
Saturday, March 10, 2018 - 2:00pm
Saturday, March 10, 2018 - 8:00pm
Sunday, March 11, 2018 - 2:00pm
a play by Anne García-Romero, directed by Risa Brainin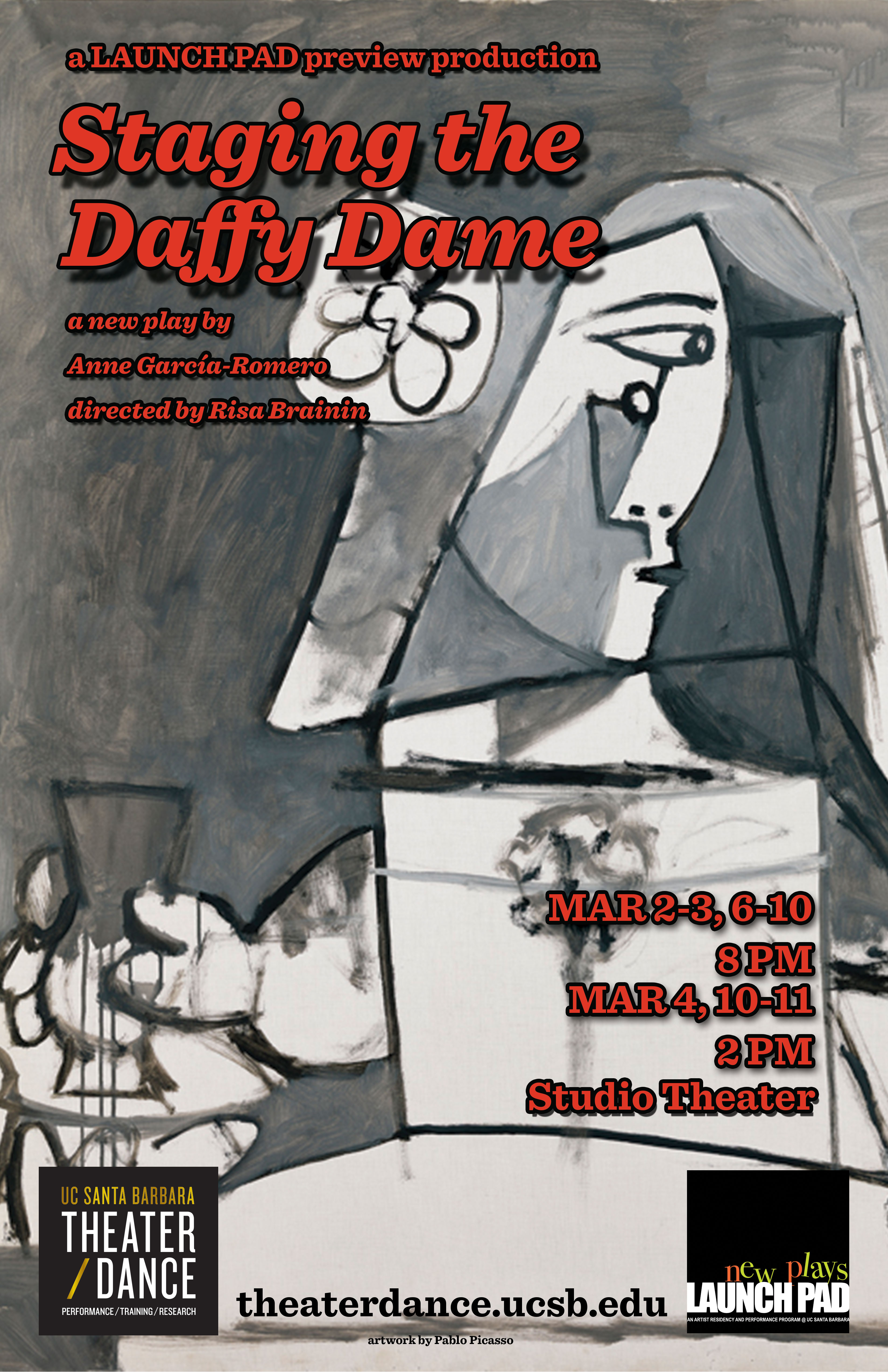 About the Play
In the present, on the campus of a California public university, Lupe, a Latinx theatre professor, directs a production of the 1613 Spanish Golden Age comedy, La Dama Boba (The Daffy Dame), by Lope de Vega. Personalities collide onstage and off as the company grapples with the issues of race, class and gender raised by the play. As opening night approaches, national politics start to invade the personal lives of the company, revealing the question: Can love truly have the power to overcome differences and lead to a new kind of knowledge?
About the Playwright
Anne García-Romero's plays include Provenance, Paloma, Earthquake Chica, Mary Domingo, Mary Peabody in Cuba and Santa Concepción. Her plays have been developed and produced at the Public Theater, O'Neill National Playwrights Conference, the Goodman Theatre, the Mark Taper Forum and South Coast Repertory. She's been a Jerome Fellow at the Playwrights' Center and is an alumna of New Dramatists. She holds an MFA in Playwriting from the Yale School of Drama and a Ph.D. in Theater Studies from UC Santa Barbara. She is the Thomas J. and Robert T. Rolfs Assistant Professor in the Department of Film, Television and Theatre at the University of Notre Dame where she teaches playwriting and theatre studies. She's a Resident Playwright at Chicago Dramatists.
Production Team
Written by Anne García-Romero
Directed by Risa Brainin
Costume Designer: Ann Bruice
Lighting Designer: Michael Klaers
Scenic Designer: Ann Sheffield
Dramaturg: Leo Cabranes-Grant
Stage Manager: Daniella Sherwin
Asst. Stage Manager: Philip Astor
Assistant Directors: Dan Colohan, Madison Kirkpatrick, Jesus Ramirez
Cast
Cristina Frias
Mitchell Thomas
Daniel Blanco
Rosslyn Cornejo
Kerry Jacinto
Olivia Nathan
Jeremy Scharf
Josh Sechrist
June 24, 2017 - 11:48am