Several times each year, professional playwrights are invited to "pop in" for a workshop and one-time reading of their new play. LAUNCH PAD provides a director, actors, and a theater (virtual or in person) ~ playwrights see their work "up on its feet" and in front of an audience, adding valuable insight to the development process.
---
Upcoming Pop Ups:
July 10, 2022
One Month Along
by Franky Gonzalez
directed by Risa Brainin
About the play...
A play occurring over several years in reverse chronology exploring the lives of three creatives who navigate the world of theatre, friendship, and infidelity.
About the playwright...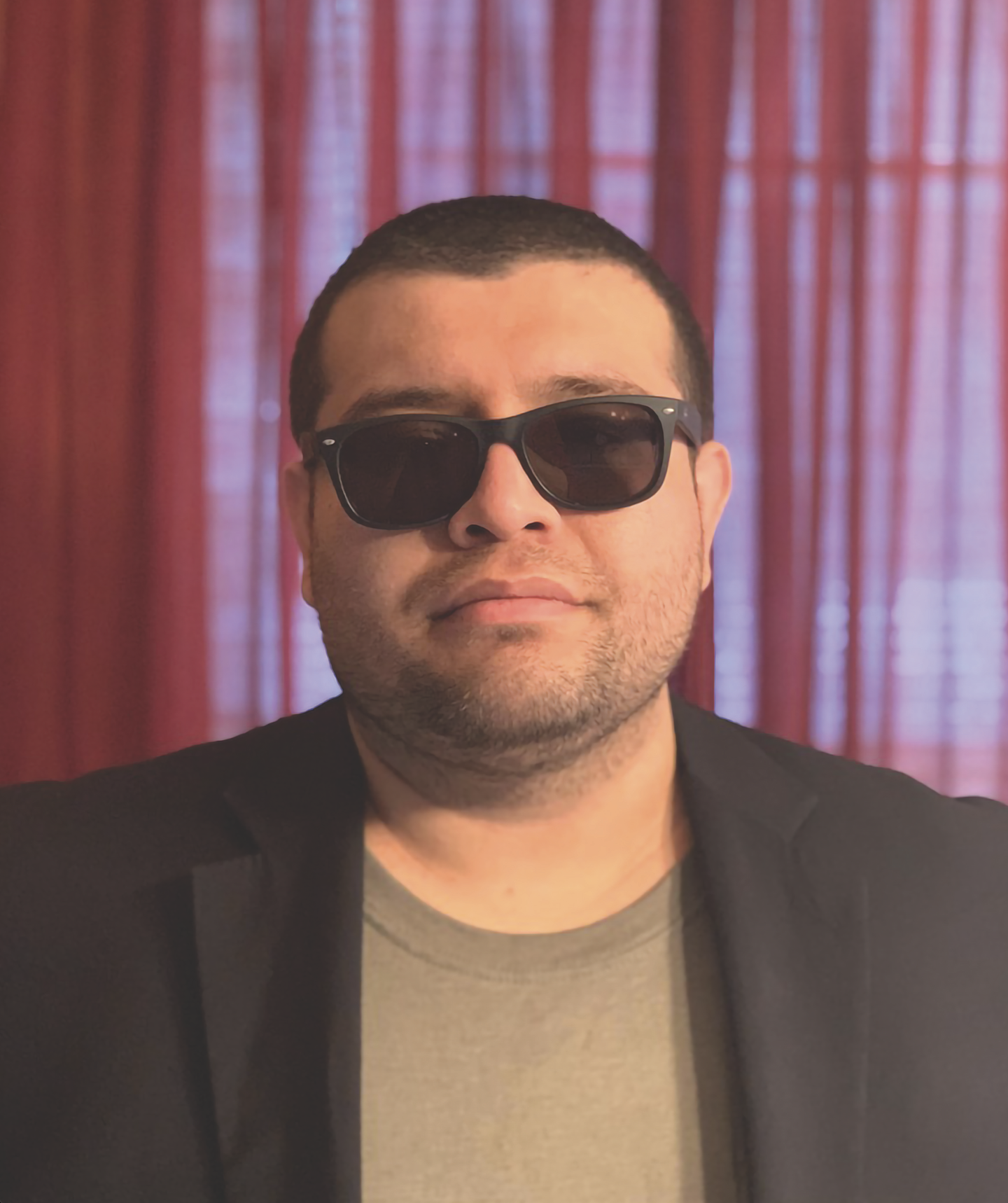 Franky D. Gonzalez is a playwright and TV writer of Colombian descent splitting time between Dallas and Los Angeles. He holds a BA in Theatre from the University of North Texas and has had his work featured throughout the Dallas-Ft. Worth metroplex where he served proudly as the Dramatists Guild Regional Representative in 2018. Nationally, his work has appeared with The Lark, the Sundance Institute, the Ojai Playwrights Conference, the Latinx Playwrights Circle, the Great Plains Theatre Conference, the Goodman Theatre (Live @ Five Series), The New Harmony Project, Bishop Arts Theatre Center, Repertorio Español, LAByrinth Theater Company, Ars Nova (ANT Fest 2021), Dallas Theater Center, Austin Latinx New Play Festival, Stages Repertory Theatre's Sin Muros Latinx Theatre Festival, the Latino Theatre Company's RE:Encuentro 2021: National Virtual Latina/o/x Theatre Festival, the HBMG Foundation National Winter Playwrights Retreat, Tofte Lake Center, Ignition Arts, Play4Keeps Podcast, the Antaeus Playwrights Lab, Clamour Theatre Company, Ammunition Theater Company, Greenway Court Theatre, the Cloud Factory, The Mid-America Theatre Conference, The Midwest Dramatists Conference, and the One-Minute Play Festival. Franky was a recipient of the Charles Rowan Beye New Play Commission, an MTC/Sloan Commission, co-recipient of the MetLife Nuestras Voces Latino Playwriting Award, won the Crossroads Project Diverse Voices Playwriting Initiative Award, the Judith Royer Award for Excellence in Playwriting, the Short+Sweet Theatre Festival Manila Best Overall Production Prize, and was a staff writer for the fourth season of 13 Reasons Why. He has also been a finalist for the New Dramatists residency, the Eugene O'Neill National Playwrights Conference, the 2020 NNPN National Showcase of New Plays, San Diego REP Latinx New Play Festival, the Civilians R&D Group, The DVRF Playwriting Program, the Ashland New Play Festival, the Playwrights Realm Scratchpad Series, BETC Generations, the Risk Theatre Modern Tragedy Competition, the American Blues Theater Blue Ink Playwriting Award, the ScreenCraft Stage Play Competition, and a semi-finalist for the Bay Area Playwrights Festival, the Seven Devils Playwrights Conference, the Headwaters New Play Festival, the Dubai Short+Sweet Theatre Festival, and runner-up for the Alpine Fellowship. Most recently Franky was named the 4 Seasons Resident Playwright, a Sony Pictures Television Diverse Writers Program Fellow, the Bishop Arts Theatre Center Playwright-in-Residence, and a Core Writer with the Playwrights Center.
Check back for more details!
---
Past Pop Ups:
---
September 24, 2021
Yellowstone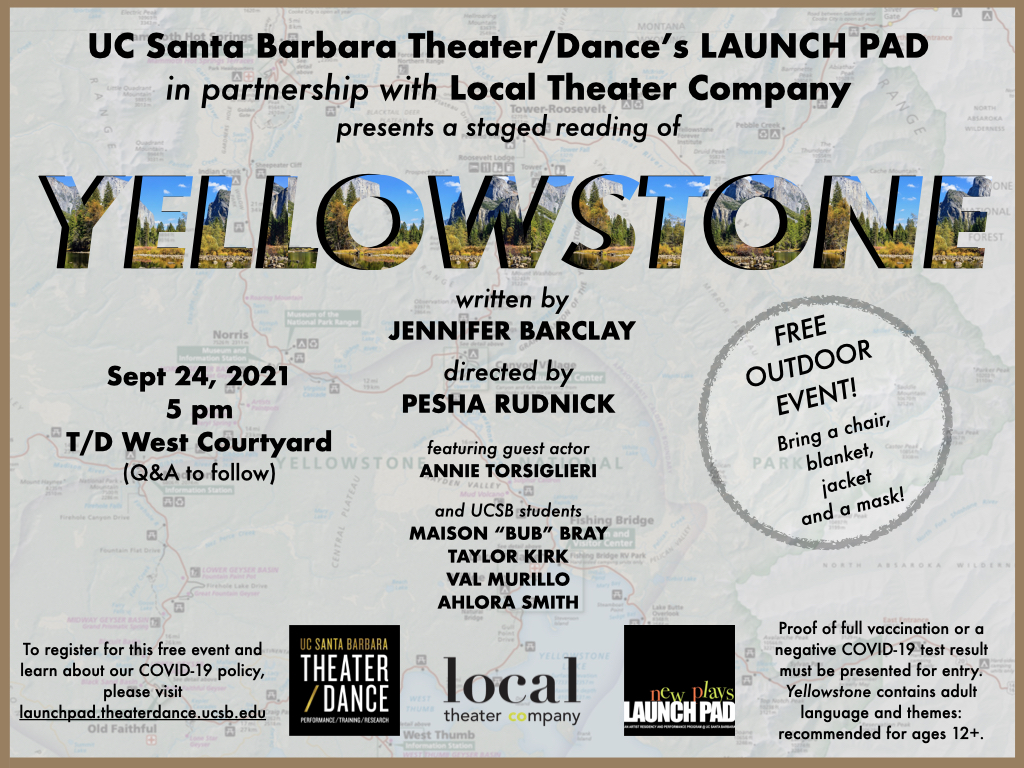 (Click the image to access the Yellowstone program)
Yellowstone Ensemble Cast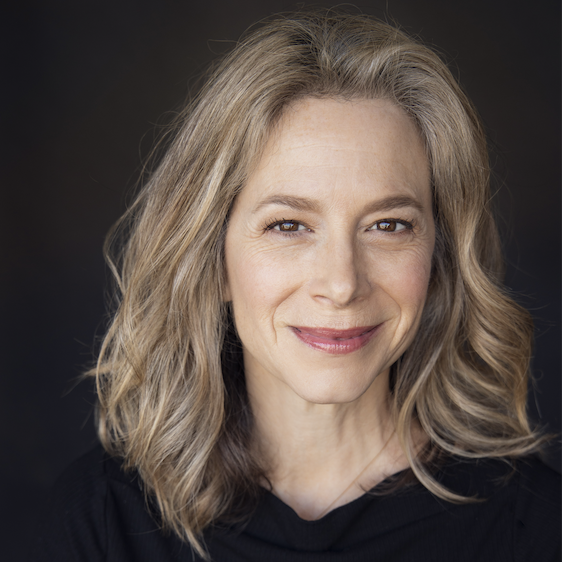 featuring guest artist Annie Torsiglieri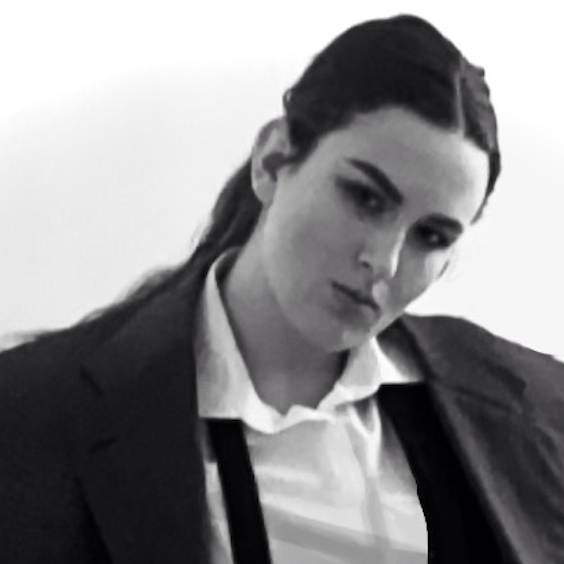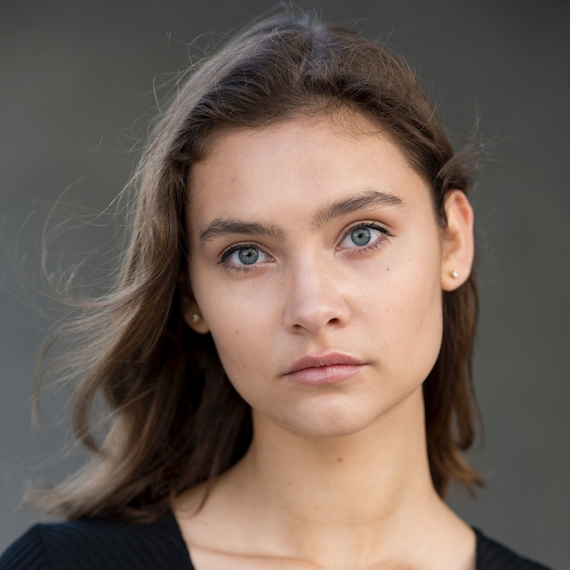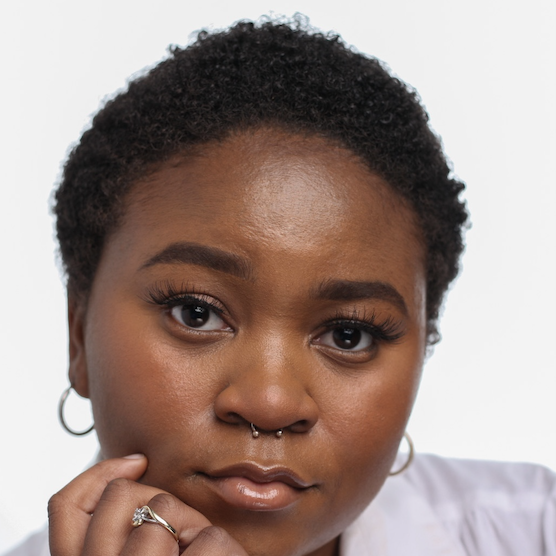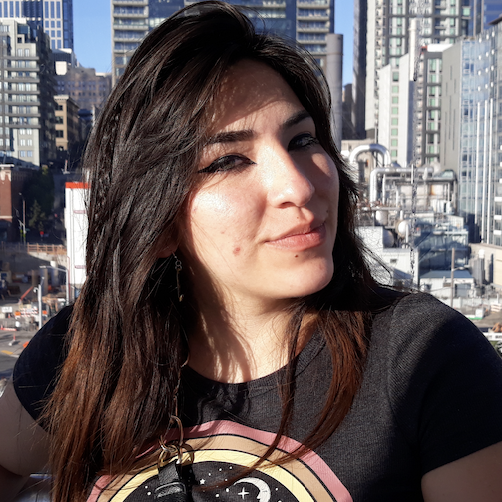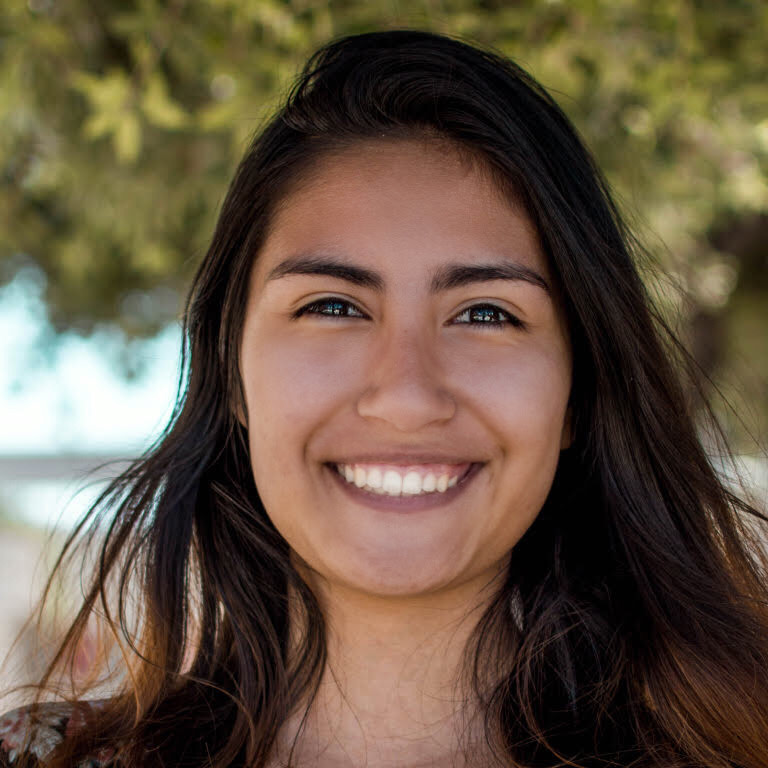 and UCSB students Maison "Bub" Bray, Kirsten Høj, Taylor Kirk, Val Murillo, Ahlora Smith
About the play...
Yellowstone is a dark comedy set in Wyoming, at the border of Yellowstone National Park, and is the first in Jennifer Barclay's national parks trilogy. We are thrust into the middle of a land-grabbing, fracking fight between a group working-class, rural, conservative white male characters—played by a multiracial company of women. Yellowstone is a multi-leveled, wild ride, giving us a theatrical lens through which we can view both sides of the national political divide. 
About the playwright...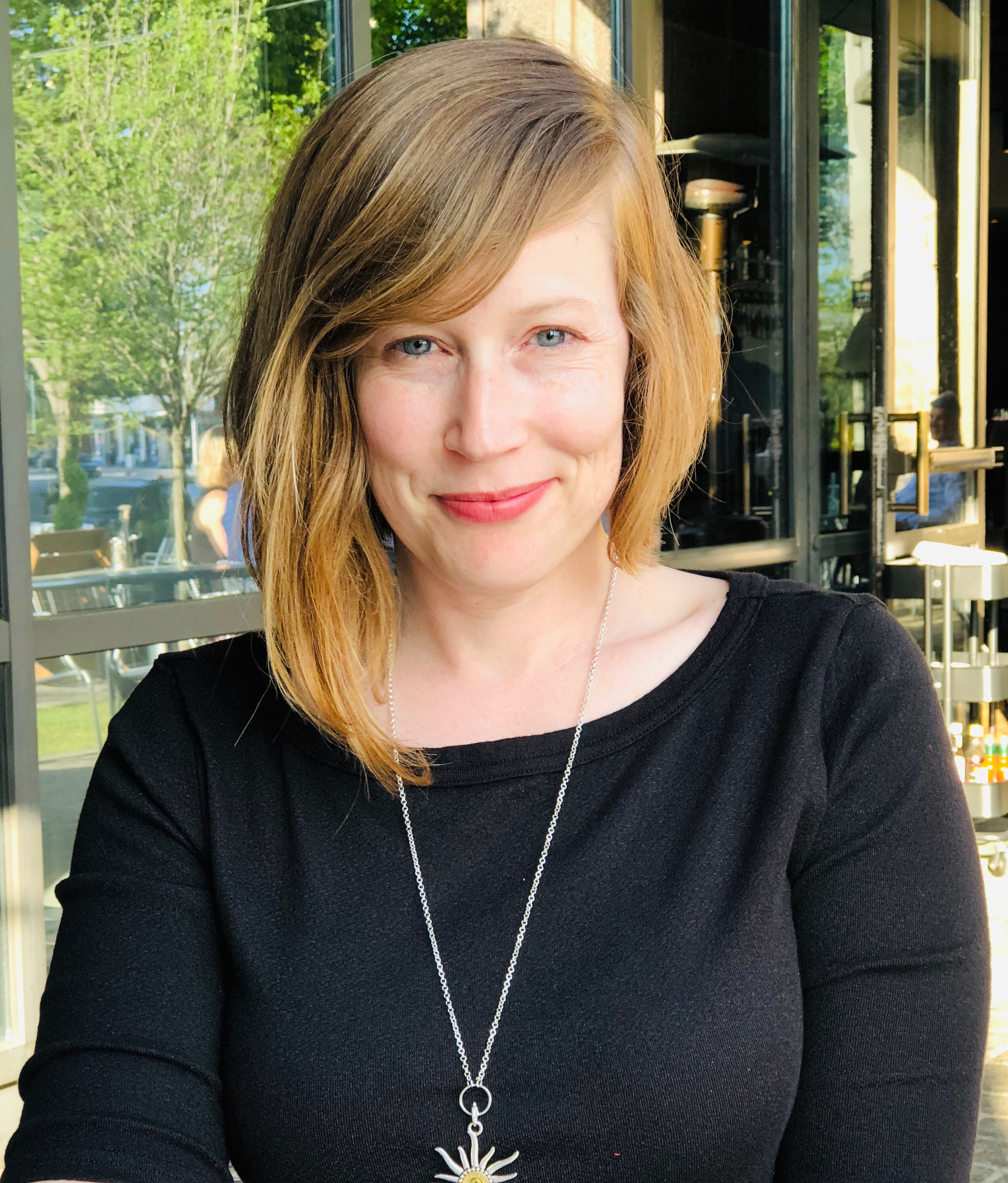 Jennifer Barclay is a Chicago actor-turned-playwright, now living in DC. Her two primary missions as a playwright are to increase the canon of juicy, stereotype-busting roles for women, and to write intimate socio-political stories which inspire curiosity and empathy. Jennifer's play Ripe Frenzy won the 2016 Smith Prize for Political Theatre from the National New Play Network (NNPN) and a 2018 Dramatists Guild Fund Writers Alliance Grant. Ripe Frenzy was developed at Woolly Mammoth, the 2017 Ojai Playwrights Conference, NNPN/PlayPenn, and had a 2018 NNPN Rolling World Premiere at New Rep in Boston, Synchronicity Theatre in Atlanta and Greenway Court in LA. Her other plays include Hot Little Slice, Housebound, Obscura, Freedom, NY, The Human Capacity, Danny, Red Helen, The Attic Dwellers, Eat It Too, and she is in the midst of developing a trilogy set in the national parks which includes Yellowstone, This Profound Abyss (set in Yosemite) and an untitled play set in Glacier National Park. She is also currently developing a digital interactive, immersive, promenade party-play called Bacchanal. Jennifer's plays have been produced and developed by Steppenwolf, La Jolla Playhouse, The Old Globe, RedCat, The Kennedy Center, Center Stage, Boulder Ensemble Theatre Co, Andy's Summer Playhouse, American Blues Theatre, The International Theatre of Vienna and The Edinburgh Fringe, among others. Other awards include: Samuel Goldwyn Writing Award, Kennedy Center National Science Playwriting Award, Pinter Review Gold Medal, BETC New Generations Award. Jennifer has been a Fellow at the MacDowell Colony, the New Harmony Project, the Virginia Center for the Creative Arts, and the Hawthornden International Writers Retreat in Scotland. She has been a playwright in residence at South Coast Rep (2009-10 Shank Playwright in Residence), Center Stage (2016 Playwrights Collective) and Arena Stage (2018-19 Playwrights Arena). Jennifer has a degree in Theatre from Northwestern University and an MFA in Playwriting from UC San Diego, where she studied with Naomi Iizuka. She is proud to be an NNPN Affiliated Artist, a member of the Dramatists Guild, and an Associate Professor of Playwriting and Performance at the University of Maryland.  www.BarclayStudios.com
Photo credit: Jim Barclay
About the director...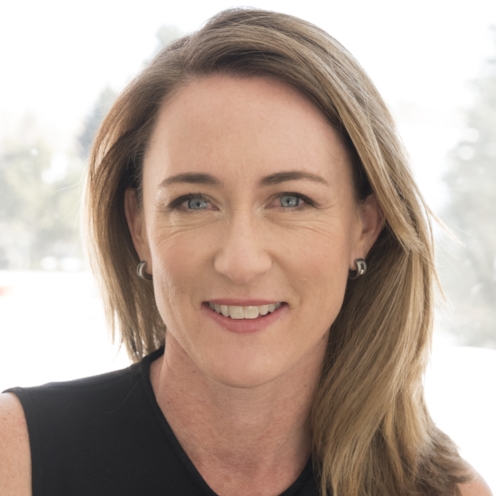 Pesha Rudnick is the founding artistic director of Local Theater Company in Boulder, CO, where she pursues the company's mission to discover and develop new American plays. For Local Theater Company, Pesha directed twenty new works including the world premiere productions of Paper Cut (Colorado Theater Guild winner Best New Play) by Andrew Rosendorf, Discount Ghost Stories: Songs from the Rockies music and lyrics by Alexander Sage Oyen, Book by Rob Wright and Pesha Rudnick; Elijah: An Adventure by Michael Mitnick (Colorado Theater Guild Nomination Best New Play), Faith by James McLindon (Colorado Theater Guild nomination Best New Play), The Firestorm by Meridith Friedman (Colorado Theater Guild nomination Best New Play). Pesha curated the digital series "Living Room Local" in 2020 and the past ten annual new play festivals, Local Lab.
Pesha was featured in Westward Magazine's "100 Colorado Creatives."
Nationally, Pesha has developed and directed dozens of new works including the world premiere of O.P.C. by Eve Ensler at the American Repertory Theater at Harvard University and 26 Miles by Quiara Hudes at Curious Theater Company. She previously collaborated with Ensler as associate director of the world premiere of Emotional Creature at Berkeley Repertory Theatre and Signature Theatre Center. She has worked at the Oregon Shakespeare Festival, Creede Repertory Theater, Florida Stage, and The Kennedy Center in Washington, D.C and many others.
Pesha is the former associate artistic director of Theater Master's National MFA Playwright's Festival (59E59, Atlantic Stage 2, Rattlestick Playwrights Theater, Wild Project, Theatre Row, and the Aspen Institute). For six years, she served as the associate director of education at Cornerstone Theater Company in Los Angeles. She holds a bachelor's degree from the University of California, Berkeley, and a master's degree from New York University. Pesha is Drama League Directing Fellow and a member of the Stage Directors and Choreographers Society.
Want to know more about Pesha's passion for live theater?  Visit her website pesharudnick.com or watch her TEDx talk on "The Danger of Live Theater." 
Photo credit: George Lange
About the dramaturg...
Kimberly Colburn is based in Toronto and is available for organizational or individual consulting, story editing, and dramaturgical work of all varieties (with the legal ability to work in the U.S. or Canada). Click here for a full list of previous dramaturgical work. She is also a skilled event manager, producer, administrator, and community builder. 
She is currently the Program Manager for the University of Toronto's Robotics Institute, running events, building community, and more. From March 2020 to November 2020, she has been the Program Manager for CanCOVID, building and implementing a digital network for scientific research around COVID in Canada, including managing and hosting a weekly speaker series.
Until her immigration to Canada, she was the Literary Director of South Coast Rep (SCR), where she co-directed the Pacific Playwrights Festival and led the CrossRoads commissioning program. Her recent dramaturgical work at SCR has included the world premiere productions of Poor Yella Rednecks by Qui Nguyen; Little Black Shadows by Kemp Powers; A Doll's House, Part 2 by Lucas Hnath; Going to a Place Where you Already Are by Bekah Brunstetter; and Orange by Aditi Kapil in addition to Zoey's Perfect Wedding by Matthew Lopez at Denver Center Theatre. Formerly, she was the literary manager at Actors Theatre of Louisville, where she was the dramaturg for the world premieres of Partners by Dorothy Fortenberry, The Roommate by Jen Silverman and Dot by Colman Domingo, among others. Prior to that, she was the associate literary director at SCR and dramaturg for the multi-year, community based Dialogue/Diálogos Project, among dozens of other productions and readings.
She has worked with companies including Los Angeles Opera, Mixed Blood Theatre, Oregon Contemporary Theatre, Artists at Play, The Playwrights Center, the Eugene O'Neill Playwrights Conference, and Native Voices at the Autry.
Stage Management...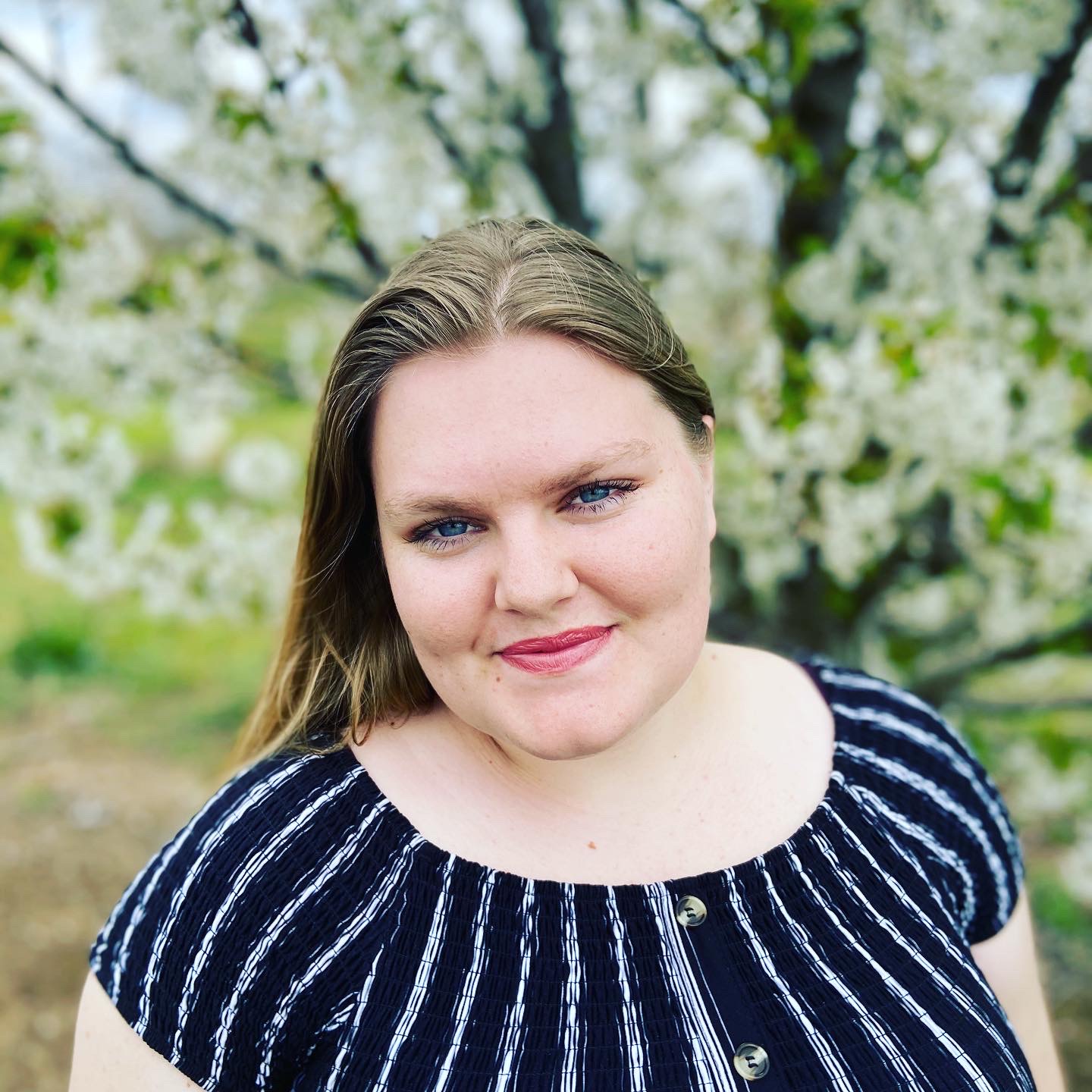 Trinity Wicklund is a second-year Theatre Design Major at UC Santa Barbara and is Yellowstone's stage manager. The reading of Jennifer Barclay's Yellowstone will be her third production with LAUNCH PAD. Recent stage management credits through UCSB include Linda Alper's Shanghai, Anna Deveare Smith's Fires in the Mirror, Naked Shakes' production of Twelfth Night, and the reading of Candrice Jones' A Medusa Thread in LAUNCH PAD's first BIPOC Reading Series Festival. (she/her/hers)
Post-Show Facilitator...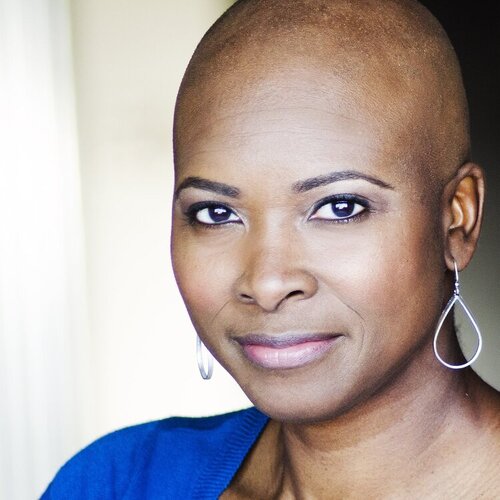 Betty Hart has acted in Local Lab and has facilitated audience conversations and salons for Local Theater Company. In 2020, Betty directed Josh Kroenig's Vroom Vroom for Local Lab, which audiences never saw due to the theatre wide shut down. In June 2021, Betty directed the one person play An Iliad for Creede Repertory Theatre (CRT) and in spring, directed a virtual offering of To the Moon by Beth Kander for CRT as well. In spring of 2021, Betty directed an original devised theatrical film for the University of Northern Colorado called 2020 Speaks. Upcoming projects include directing Polaroid Stories for Metropolitan State University, By the way, Meet Vera Stark for the Fine Arts Center at Colorado College, Once on this Island for Town Hall Arts Center and Blackademics for Vintage Theatre. In November of 2020, Betty gave a Ted Talk on compassion culture instead of cancel culture. You can view the talk here.
---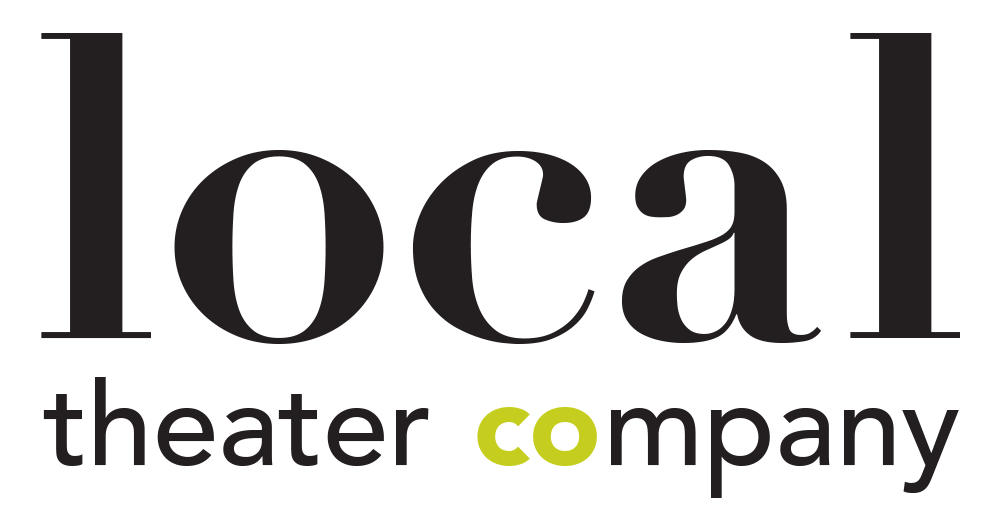 Special thanks to everyone at Local Theater Company
---
YELLOWSTONE PRESS


Read about Yellowstone in Noozhawk's article by Jim Logan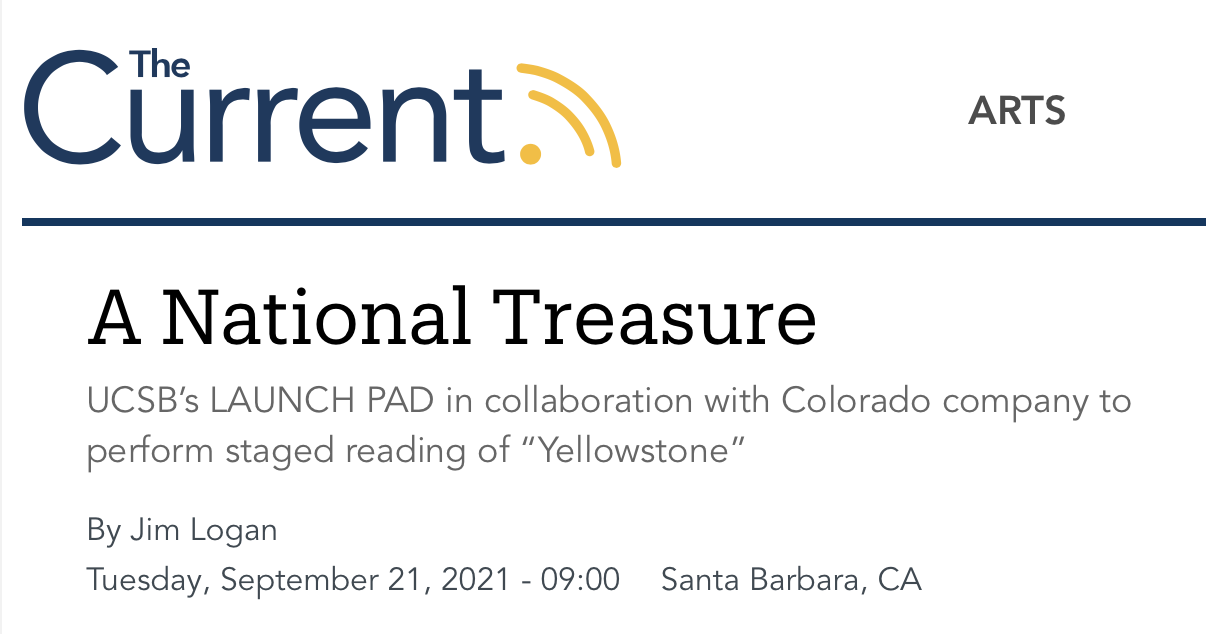 Read about Yellowstone in UCSB's The Current
---
June 10, 2021 
Blue Jay Singing in the Dead of Night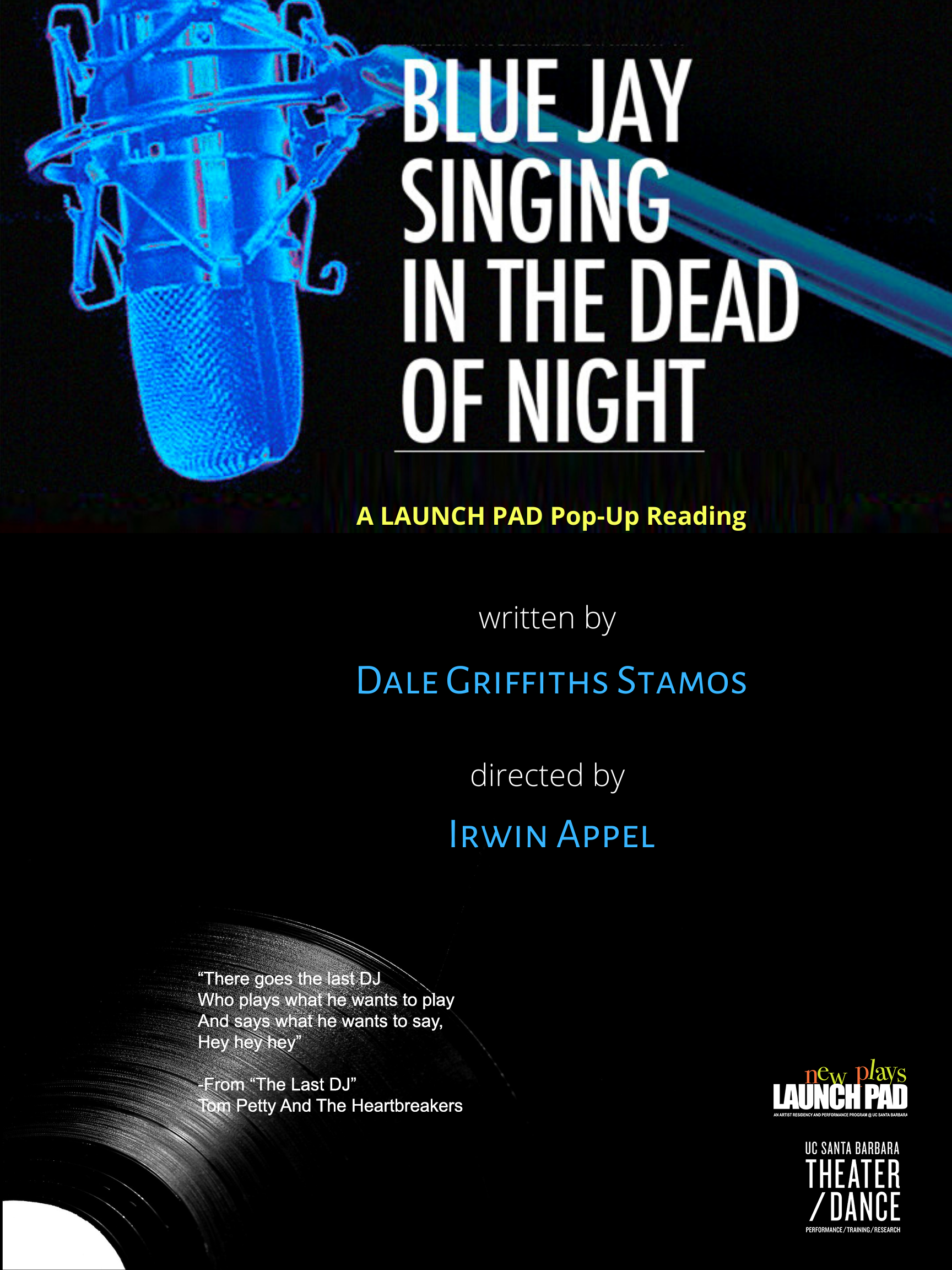 About the play...
Blue Jay Singing in the Dead of Night is the story of Jay Jarrell (the "Blue Jay"), a once popular disc jockey from late 60s, early 70s FM "Freeform" radio who finds himself in 1976 navigating the changing world of FM radio with its market-driven strict playlists and minimal talk. On top of that, he's been relegated to the graveyard shift and to working with an engineer, Max, who is determined to squeeze him into the all-gloss, no substance mold of the new FM DJ. Jay and his colleagues at the station struggle against these new realities, each choosing his or her own path through the challenge. Jay must ultimately make a difficult choice between hanging on to his career or preserving his artistic integrity.
Click here to see the PROGRAM .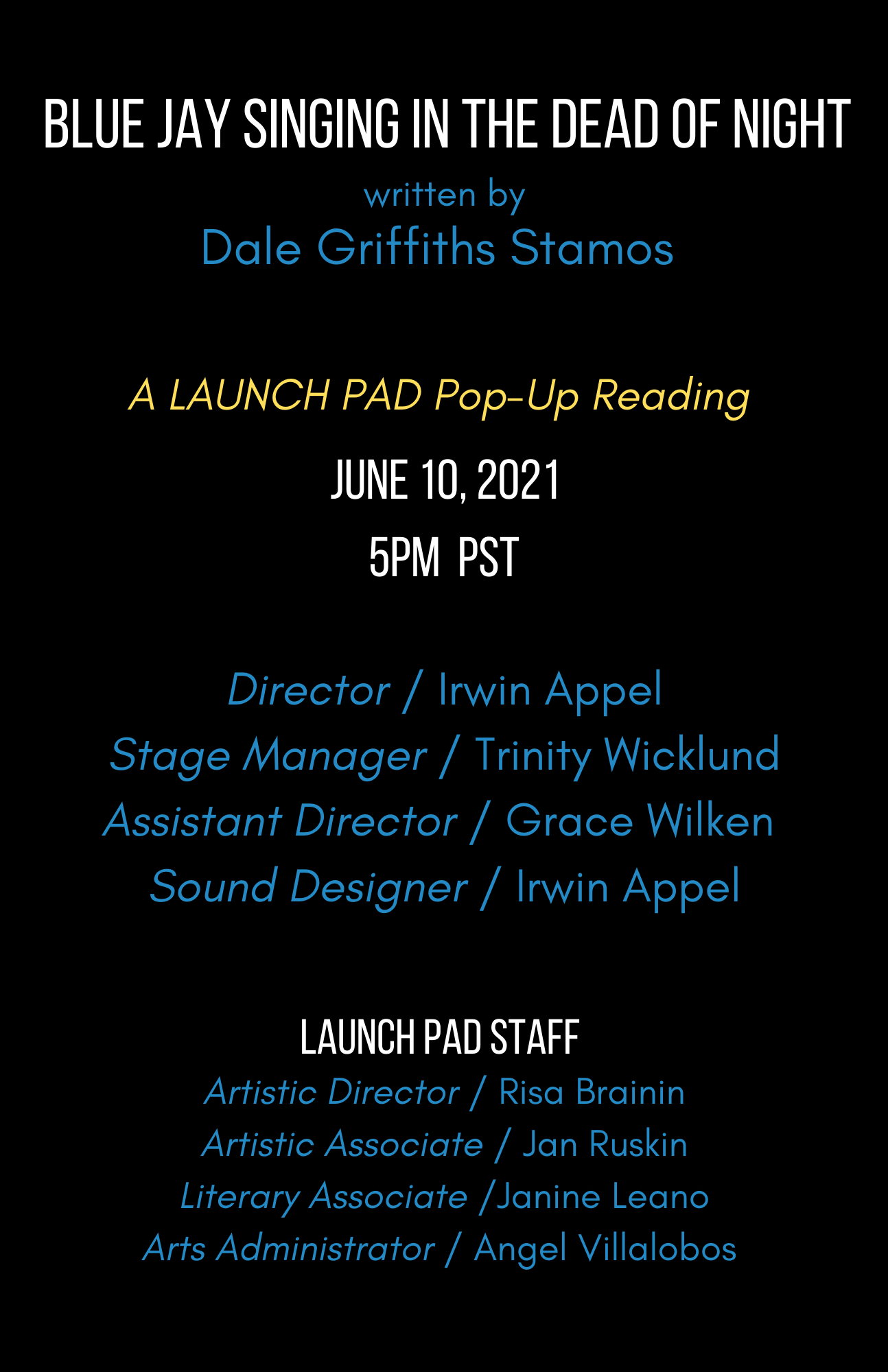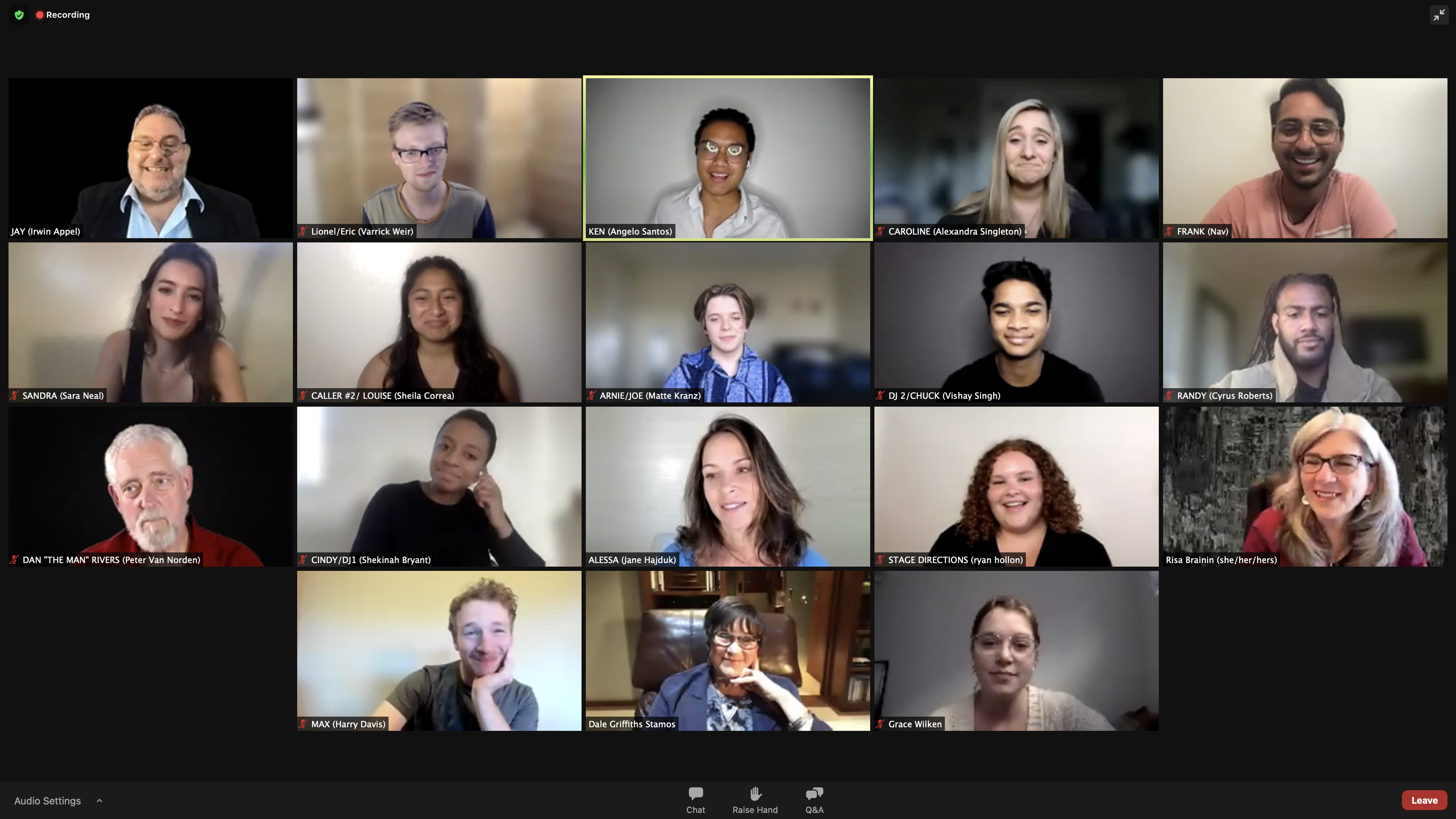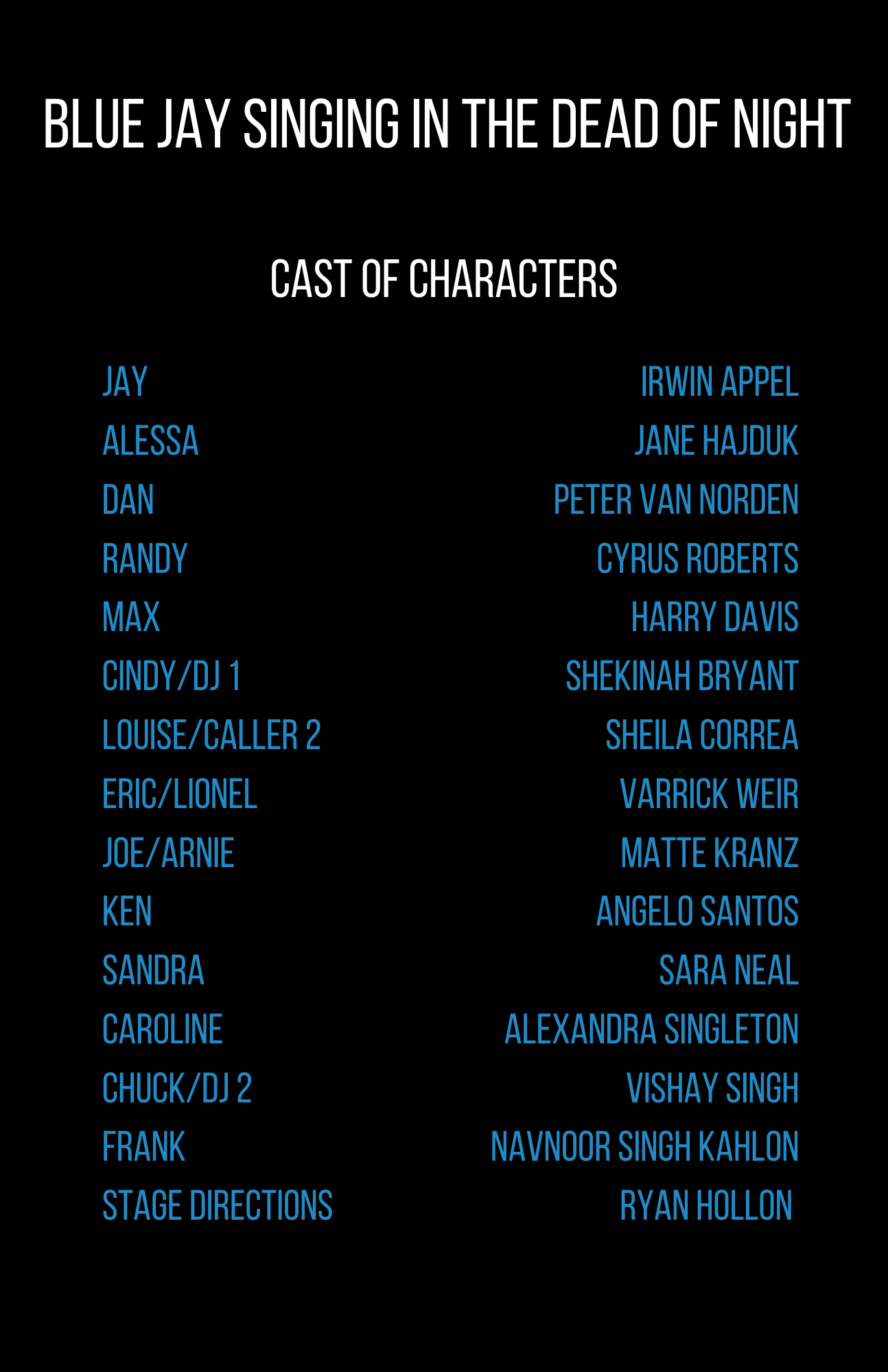 About the playwright...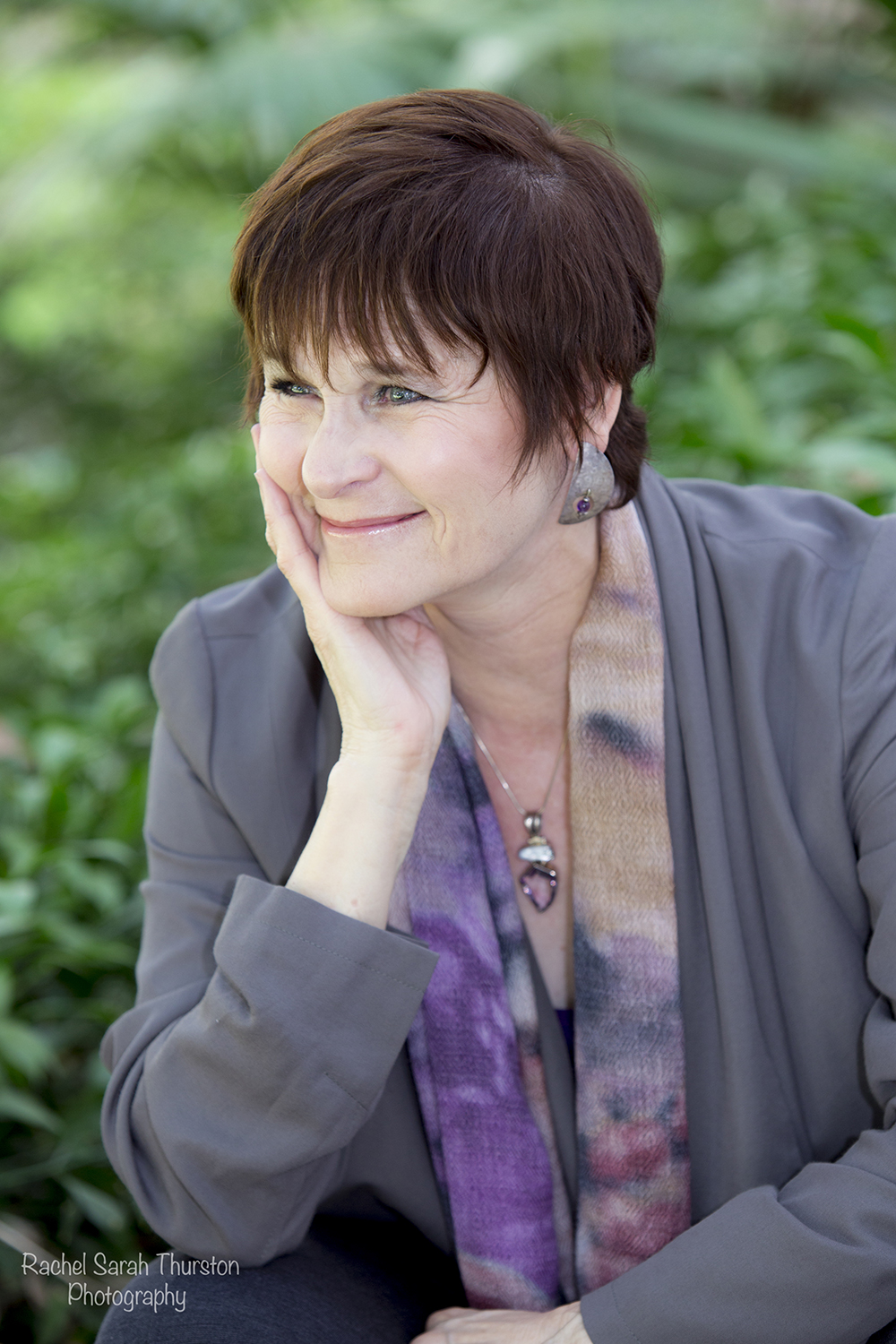 Dale Griffiths Stamos (she/her/hers) is an award-winning playwright, screenwriter, director, nonfiction author and writing teacher and consultant. She has written six short films, three of which she directed. They have all gone to multiple film festivals and have garnered two Audience Awards, three Jury Awards, a win for Best Screenplay, and nominations for Best Short Film and Best Director. Three of her shorts also won Awards of Excellence from Best Shorts Competition. Her feature length screenplays have been named as finalists or semi finalists in various competitions including Story Pros, Creative World Awards, and New York City Screenplay Awards, among others. As a playwright, her short and full length plays have been produced in Los Angeles and throughout the United States. She is the recipient of the Heideman Award from Actors Theatre of Louisville and is a top ten winner, twice, in the Writer's Digest Stage Play Competition. Dale also co-authored the book RenWomen: What Modern Renaissance Women Have to Teach Us About Living Rich, Fulfilling Lives, which features 16 extraordinary multifaceted women.
Dale is a workshop leader at the Santa Barbara Writers Conference, has led writing workshops at the San Miguel de Allende Writers Conference, has taught writing classes at SBCC adult ed, and is a private manuscript consultant. For more info, please visit
https://dalegriffithsstamos.com
About the director...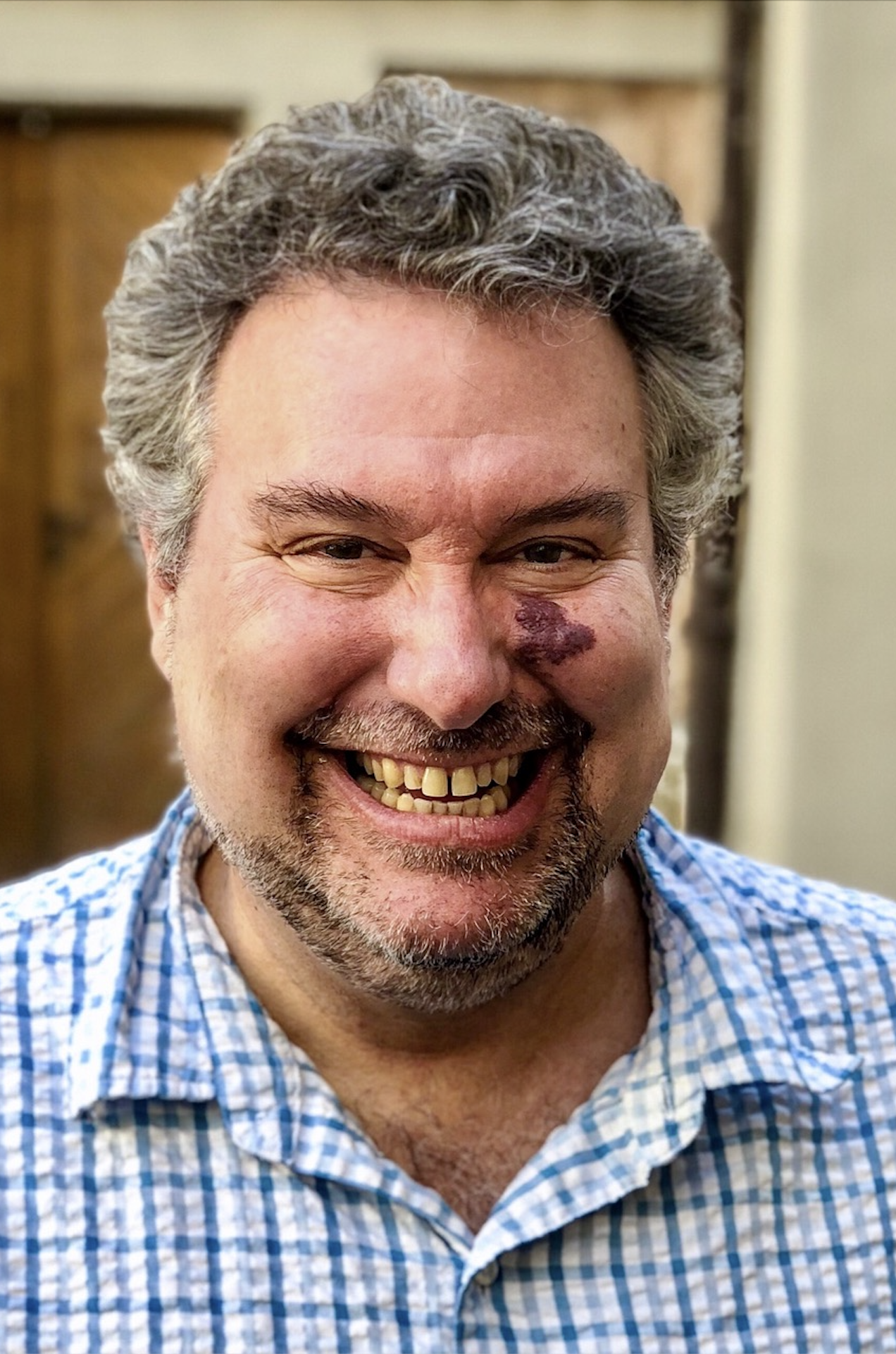 Irwin Appel
(he/him/his) is Professor and Chair of the Department of Theater and Dance at UCSB. He is thrilled to once again join Risa Brainin and LAUNCH PAD after having acted, directed and composed original music for two different plays in
Alone, Together
, as well as having played the role of Mr. Hinkley in
The People's Guide to History in the Time of Here and Now
, by Rehana Mirza in the recent
BIPOC Reading Series Festival
. He also originated the role of Aunt Chuck in LAUNCH PAD's preview production of James Still's
Appoggiatura
, and has participated in many LAUNCH PAD readings by Joyce Carol Oates, Cheryl L. West, Barbara Lebow, Anne Garcia-Romero,Alison Tatlock, Jenny Mercein, William Davies King, Christina McMahon and others.
As a director, Equity actor and composer/sound designer, he has worked throughout the United States, and internationally in China and Europe. He is the artistic director of Naked Shakes, which presented his premiere adaptations of Shakespeare's history play called
The Death of Kings
, as well as
Immortal Longings
, combining Shakespeare's
Julius Caesar
and
Antony and Cleopatra
and George Bernard Shaw's
Caesar and Cleopatra
into one play for Naked Shakes' 15th anniversary season in Fall 2020.  He is a graduate of Princeton University and The Juilliard School.  
www.deathofkings.com
---
May 23, 2021 
Los Angeles. A place where the sun shines too bright. And the rain falls too hard. And Marlowe Phillips, Private Detective, sets out to solve the case of the missing Fishfeld  — only to encounter a duplicitous, dubious cast of characters — and murder. When classic noir collides with the remote technology and green screen of these socially-distanced times, the result is this deadpan homage to "Lady and the Lake" — all shot from the Detective's POV.
Written and Directed by Deb Lacusta and Dan Castellaneta (Writers, "The Simpsons"). Performed by improvisational comedy company THE IMMEDIATE THEATER, Los Angeles, whose members include alumni of The Second City, The Groundlings, and The Spolin Players. Music by Laura Hall. ("Whose Line Is It Anyway?")
by William Davies King
directed by Risa Brainin
November 5, 2020
NOW AVAILABLE FOR VIEWING!

Featuring Irwin Appel and Anne Torsiglieri.
Collections of Nothing delves into the mixed-up mind of the mega-collector and asks
of that massive pile of stuff - thoughts, feelings, and jokes - the crucial question facing
us all: What next?
This event was sponsored by the Interdisciplinary Humanities Center. 
Read more about the event here.
---
The Son (Masuko)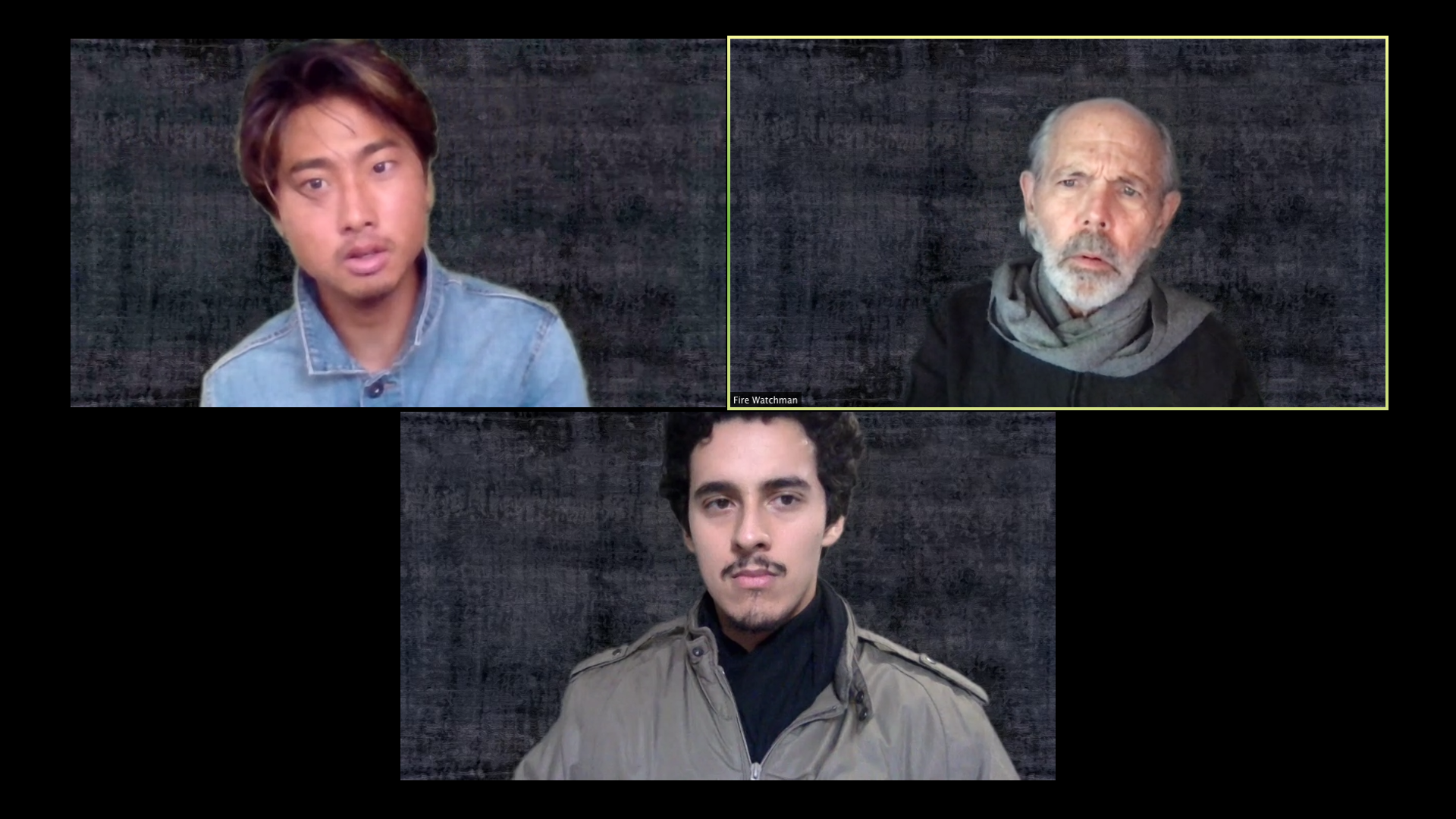 a one-act play by Osanai Kaoru
translated by David Jortner
directed by Risa Brainin
October 3, 2020
Featuring Ethan Kim, guest artist Joe Spano, Angel Villalobos, and Violet Joy Hansen (not pictured).
Performed as part of UC Santa Barbara's East Asian Studies' conference: Realism in East Asian Performing Arts.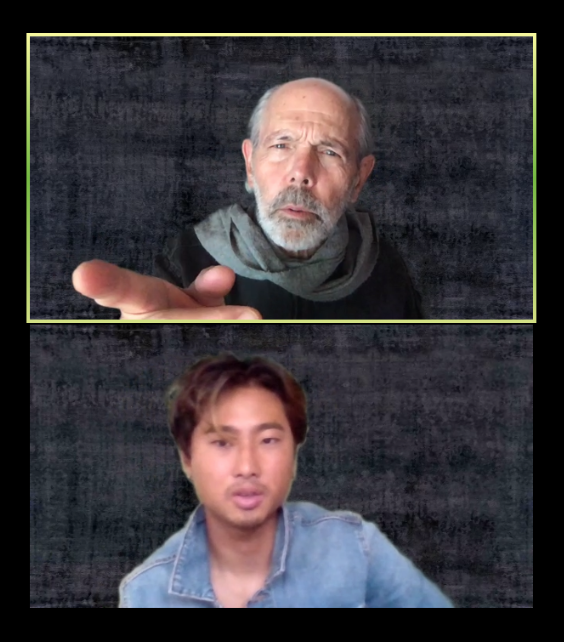 The Son (Musuko) by Japanese playwright, theatre director, and teacher Osanai Kaoru, is a one-act play which tells the story of a vagabond son returning home to see his father. Written by the "father of modern Japanese theatre" in the 1920s, this play was one of the early attempts in the new genre of shingeki, or "new theatre," the Japanese term for Western modernist drama. Filled with pathos, longing, and missed opportunities, The Son illustrates how Japanese artists adapted and transformed Western styles of playwriting to fit their new paradigm. Translated by David Jortner, this is the first English translation of this important text.
Read more about the play and the cast here.
---
Fortunes
by Dan Castellaneta and Deb Lacusta
directed by Risa Brainin
April 2, 2020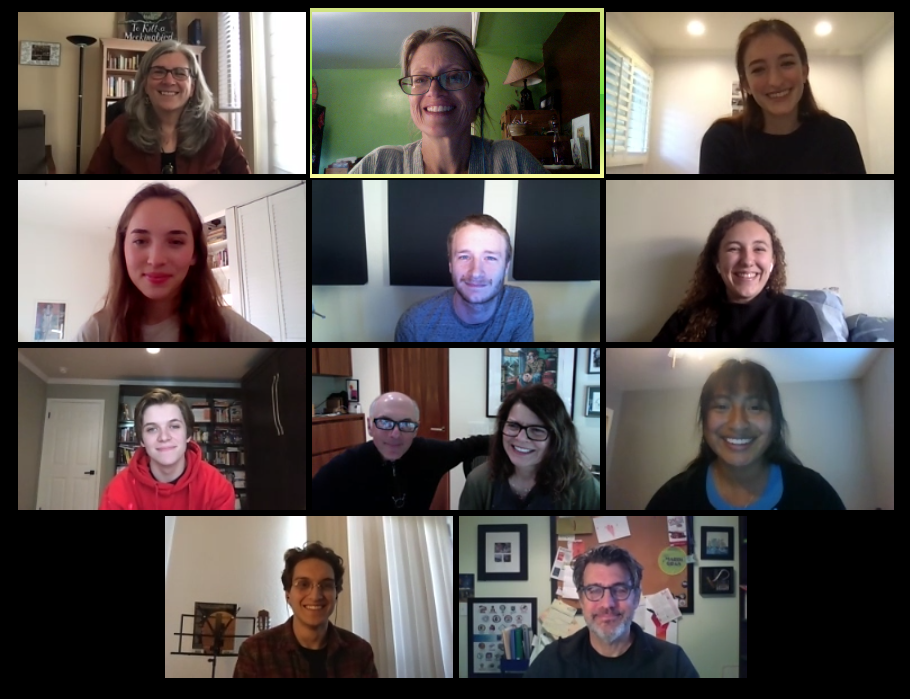 After having been canceled due to the
coronavirus outbreak, Fortunes was
rescheduled as LAUNCH PAD's first-ever
virtual workshop and staged reading.
Presented on Zoom, Fortunes was
attended by over 75 virtual audience
members and has "set the stage" for
more online collaborations. 
Pictured:
Risa Brainin, Jan Ruskin, Sara Neal
Lana Spring, Harry Davis, Hailey Turner
Matte Kranz, Dan and Deb, Sheila Correa
Harut Simonian, Michael Bernard
---
Prima Materia
by Cheri Steinkellner
directed by Risa Brainin
January 5, 2020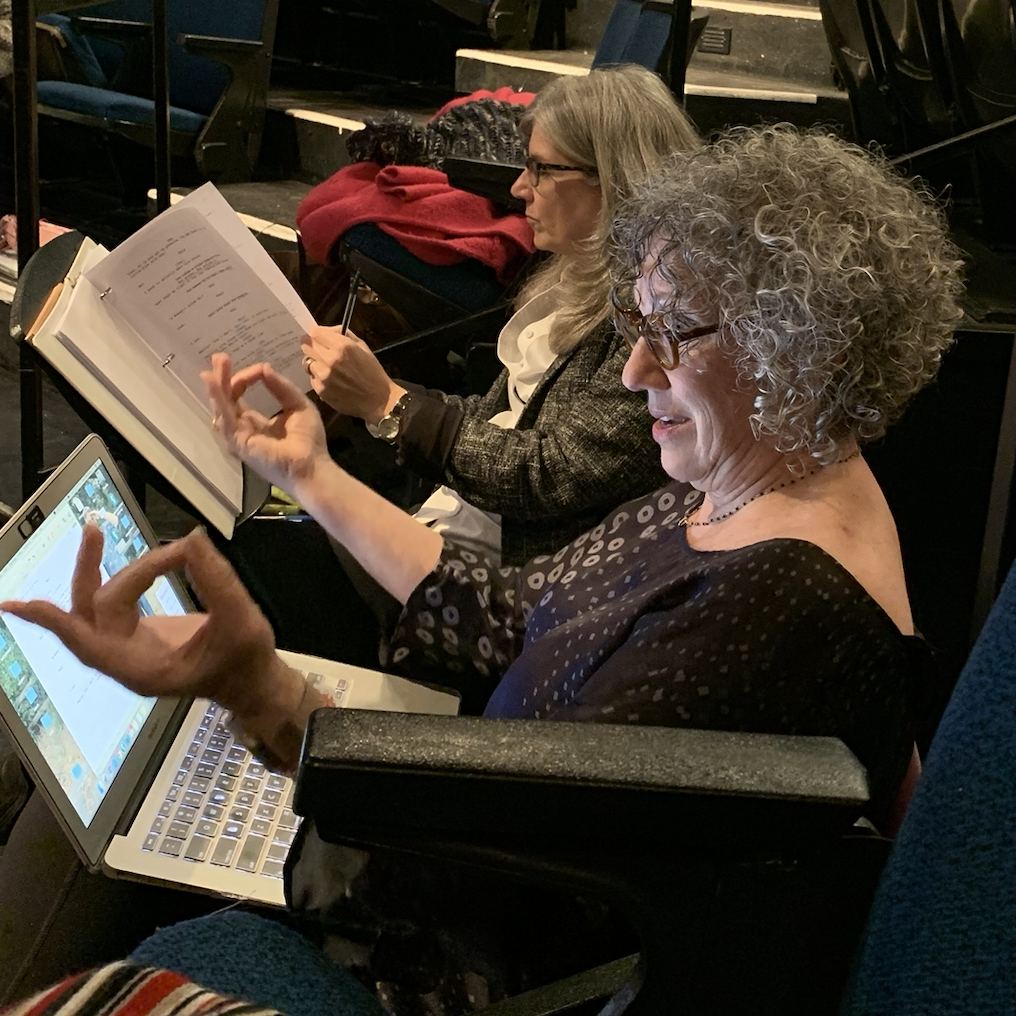 Prima Materia was LAUNCH PAD's first event of 2020,
initiating the New Play Pop Up program.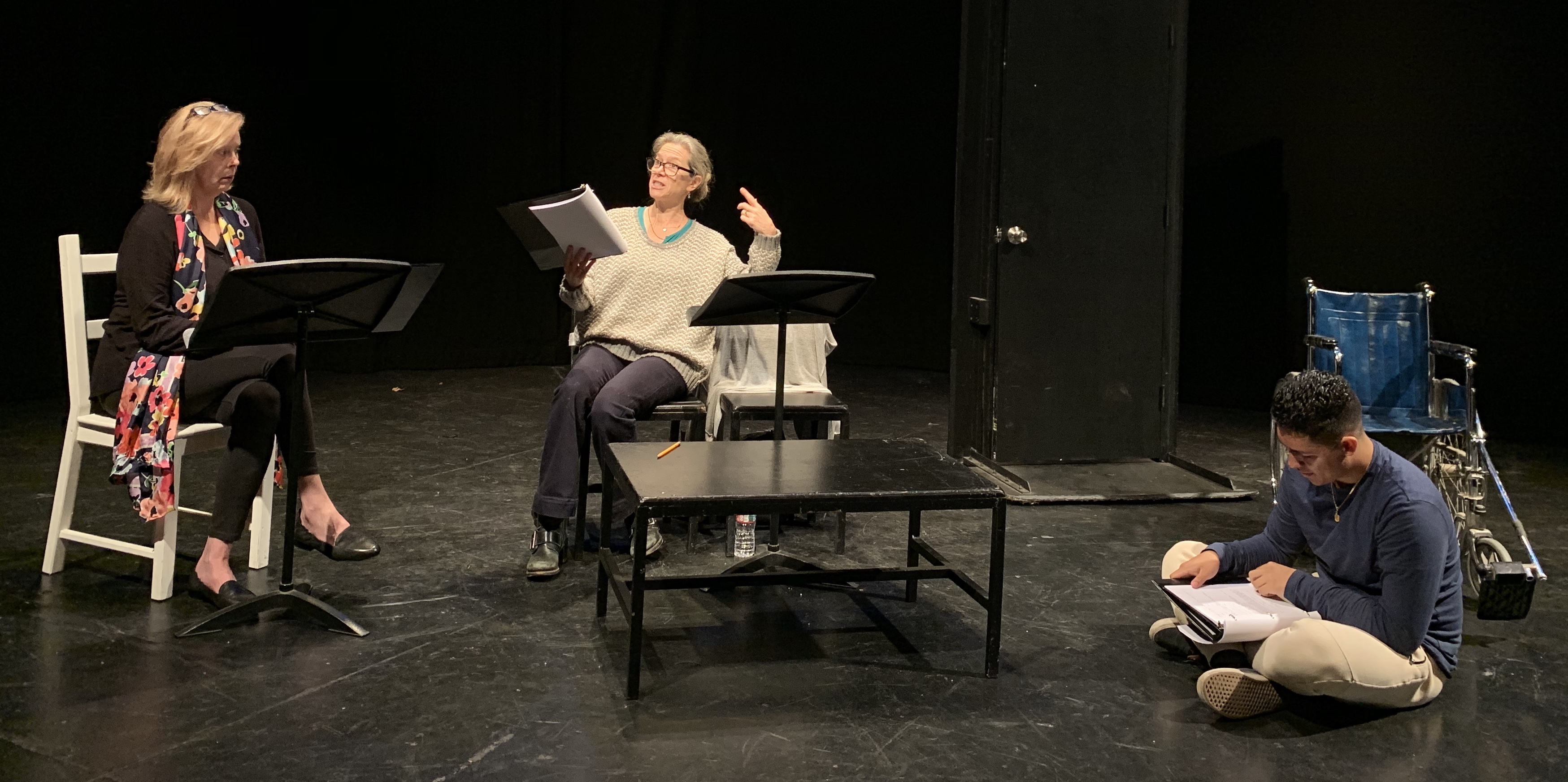 Above: Julie Fishell, Annie Torsiglieri, Daniel Andres Blanco
Left: Risa Brainin and Cheri Steinkellner
About the play...