July 20 / 7:30 PM        Through the Eye of a Needle by Jami Brandli
July 27 / 7:30 PM        (A) New World by James Still
August 3 / 7:30 PM     Staging the Daffy Dame by Anne García-Romero
August 10 / 7:30 PM   Meanwhile There are Letters by Declan Hughes
All performances were held at UC Santa Barbara's Studio Theater.
Our 2017 reading series was featured in the Santa Barbara Independent!
KCRW conducted an interview about Meanwhile There are Letters. Listen to it here.
Through the Eye of a Needle by Jami Brandli
Directed by Risa Brainin
Through the Eye of a Needle is a working class family dramedy about the Keen family dealing with the death of their daughter, Dana, a navy corpsman who recently died in the Iraq War. Larry copes with a tumbler of scotch or five, Barbara stubbornly sets an extra plate setting, while their straight-edge teenage daughter, Samantha, secretly uses Twitter to create a protest on the George Washington Bridge. Much to Larry's annoyance, the self-righteous Pastor Bill Towers and his fragile wife, Shirley, invite themselves over for Christmas Eve dinner, and then Nasser, an Iraqi refugee, arrives at their door unannounced. They quickly learn he was Dana's trusted military interpreter and that Dana has given Nasser as a "Christmas gift." As they fight over to keep Nasser or not, tempers fly and secrets are revealed. Will the Keens be pulled further apart or will they find grace and redemption in this unexpected gift?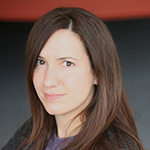 Jami Brandli's plays include Technicolor Life, S.O.E., M-Theory, ¡SOLDADERA!, Sisters Three, Through the Eye of a Needle, BLISS (or Emily Post is Dead!) which was named in The Kilroys Top 46 List in 2014. Her work has been produced/developed at New Dramatists, WordBRIDGE, The Lark, New York Theatre Workshop, Great Plains Theatre Conference, LAUNCH PAD, The Antaeus Company, Chalk REP, The Road, among other venues. Winner of John Gassner Memorial Playwriting Award, Holland New Voices Award and Aurora Theatre Company's GAP Prize. Technicolor Life premiered at REP Stage as part of the 2015 Women's Voices Theater Festival. BLISS (or Emily Post is Dead!) will receive a joint world premiere with Moving Arts, Moxie Theatre and Promethean Theatre starting this fall, 2017. She's been a finalist for the 2016 PEN Literary Award for Drama, Playwrights' Center Core Writer Fellowship, Princess Grace Award, O'Neill National Playwrights Conference and the Disney ABC TV Fellowship and was also nominated for the Susan Smith Blackburn Award. Her short works are published with TCG and Smith & Kraus. A proud member of the Playwrights Union, the Antaeus Playwrights Lab, and The Dramatist Guild, Jami teaches dramatic writing at Lesley University's low-residency MFA program. She is represented by the Robert A. Freedman Agency and Gramercy Park Entertainment and is currently developing a TV project with Quaker Moving Pictures. www.jamibrandli.com
(A) New World by James Still 
Directed by Risa Brainin
(A) New World is set in 1637, in the Plymouth Colony on Cape Cod. The backdrop is the rapid expansion (financially and geographically of Plymouth) -- much to the chagrin of some of the founders who are desperate to protect the original intent of the Colony which was that it be a religious community. There is real tension between religion and commerce, between a closed/controlled community and an ever sprawling new world . The heart of my play inspired by the Allexander/Roberts court case: the first recorded trial for sex crimes in Plymouth. Two young men are sentenced for "often spending their seed, one upon another"... The play has many resonances with contemporary issues of punishing the outsider, religious influence on the courts, and most urgent (and poignant) is the fact that the play zeroes in on homophobia and hatred of gay men from the very beginning of our country's history. Douglass Shand-Tucci wrote that "Most gay history lies buried in bachelor graves."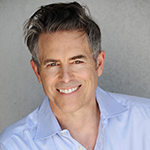 James Still's plays have been produced throughout the U.S., Canada, Europe, Australia China, Japan, and South Africa.  He is a two-time TCG-Pew National Theatre Artist with the Indiana Repertory Theatre where he is in his 19th season commuting from the West Coast as the IRT's first-ever Playwright in Residence.  Plays include:  Miranda (Illusion/Minneapolis); The Widow Lincoln (Ford's Theatre, Washington, DC); Appoggiatura (Denver Center Theater), April 4, 1968 (Indiana Rep), The House That Jack Built (winner of the New Play Prize at Spoleto); I Love to Eat (Portland Center Stage); A Long Bridge Over Deep Waters (Cornerstone's Faith-Based Theater Cycle in L.A); And Then They Came for Me (around the world including at the House of Commons in London hosted by Vanessa Redgrave). His award-winning short play When Miss Lydia Hinckley Gives the Bird the Bird has been performed at festivals and universities around the country.  Mr. Still is also a winner of the William Inge Festival's Otis Guernsey New Voices Award and a four-time Pulitzer Prize nominee, and five-time Emmy nominee.  His plays have been developed and workshopped at LAUNCH PAD, the New Harmony Project, Sundance, the O'Neill and many more.
Staging The Daffy Dame by Anne García-Romero 
Directed by Risa Brainin
Note: This play appeared in last summer's reading series and will be further developed this summer. It will have its Preview Production as part of the UCSB Department of Theater and Dance's 2017-18 season. 
In the present, on the campus of a California public university, Lupe, a Latina theatre professor, directs a production of the 1613 Spanish Golden Age comedy, La Dama Boba (The Daffy Dame), by Lope de Vega, with a cast of four university students and two community professionals. Amidst budget cuts, diversity protests and faculty opposition, Lupe employs non-traditional casting as she attempts to stage a "bare bones" version of this classical comedy from the Spanish canon. In La Dama Boba, two sisters, Finea and Nise, are in love with a poor schoolteacher, Laurencio, but their lives are upended when their father, Octavio, arranges for Finea to marry a nobleman, Liseo. Nise, the elder sister, is educated while, Finea, the younger, is daffy. However, Finea gains a new kind of intelligence through the power of love. While Lupe directs her actors, tempers flare as conflicts arise when the company addresses issues of race, class and gender in portraying these roles. As opening night approaches, Lope de Vega's comedy challenges the company to confront their own prejudices by asking the question: Can love help us overcome our differences and truly lead us to a new kind of knowledge?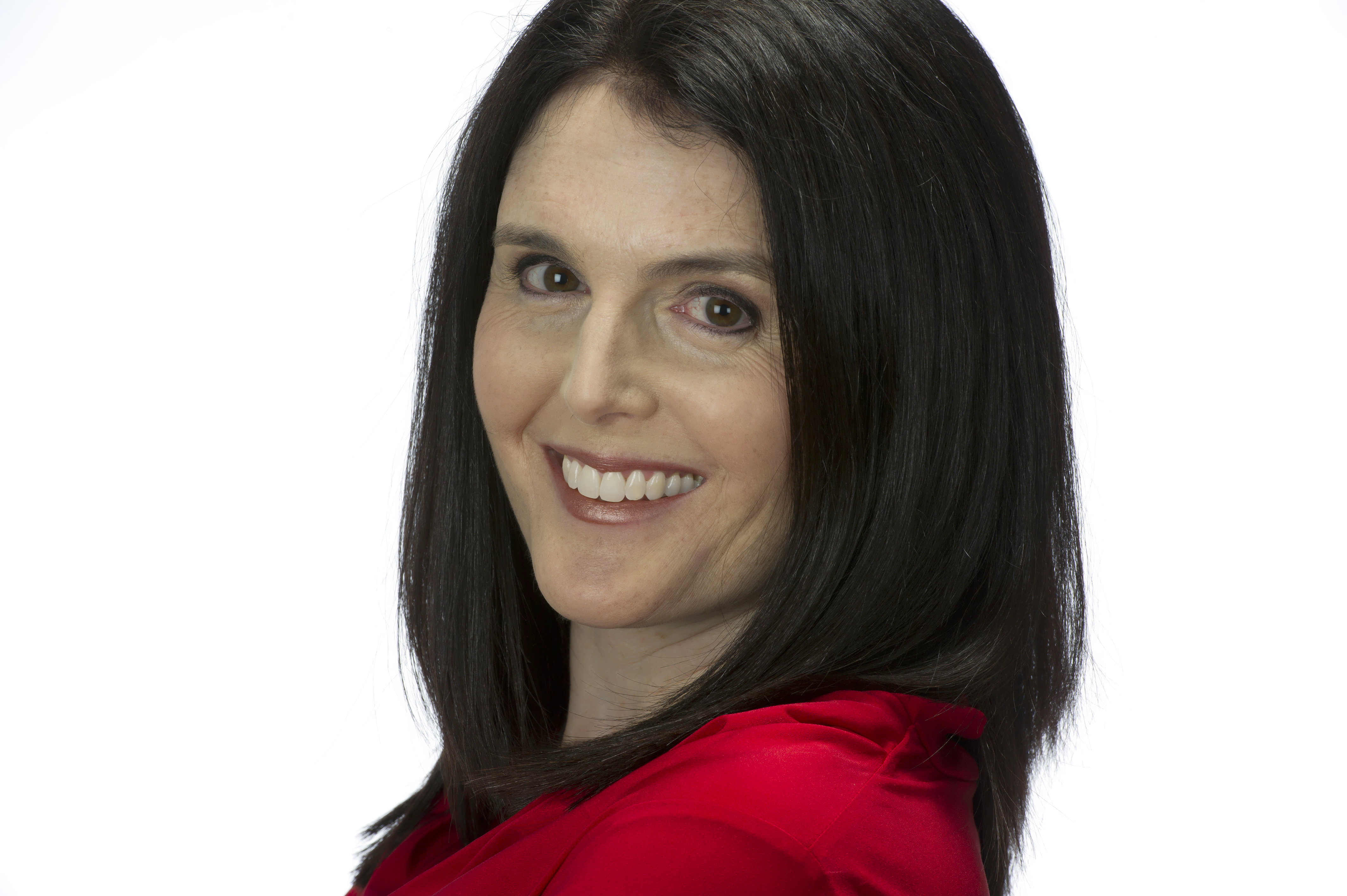 Anne García-Romero's plays include Provenance, Paloma, Earthquake Chica, Mary Domingo, Mary Peabody in Cuba, Juanita's Statue and Santa Concepción. Her plays have been developed and produced at the Public Theater, O'Neill National Playwrights Conference, the Goodman Theatre, the Mark Taper Forum, the Denver Center Theatre and South Coast Repertory. She's been a Jerome Fellow at the Playwrights' Center and is an alumna of New Dramatists. She holds an MFA in Playwriting from the Yale School of Drama and a Ph.D. in Theater Studies from UC Santa Barbara. She is an Associate Professor in the Department of Film, Television and Theatre at the University of Notre Dame where she teaches playwriting and theatre studies. She's a Resident Playwright at Chicago Dramatists.
Meanwhile There are Letters by Declan Hughes 
Directed by Risa Brainin
LAUNCH PAD in association with The Margaret Millar Charitable Trust presents Meanwhile There are Letters by Declan Hughes, based on the book Meanwhile There are Letters: The Correspondence of Eudora Welty and Ross MacDonald edited and with an introduction by Suzanne Marrs and Tom Nolan.  
In the middle of their lives, two of America's greatest writers, Eudora Welty and Ross Macdonald, embarked on a friendship conducted largely through letters that blossomed into a devoted love affair. Using these letters as a starting point, Meanwhile There Are Letters charts the course of this fascinating relationship between two brilliant, lonely people in the middle of their lives whose great fortune it was to find each other.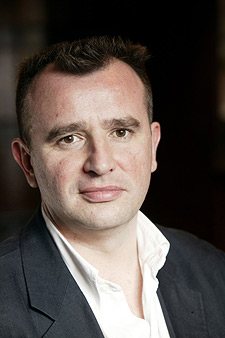 Declan Hughes is a novelist and playwright. He co-founded Dublin's Rough Magic Theatre Company and was joint artistic director for ten years. He has worked as writer in association at the Abbey Theatre. His plays include I Can't Get Started; Digging For Fire; New Morning; Twenty Grand; Shiver and The Last Summer.
His first novel, The Wrong Kind of Blood won the Shamus Award for Best First novel and the Le Point magazine prize for best European crime novel. He has written five other novels, including The Colour of Blood, All The Dead Voices and City of Lost Girls.
Declan is currently Arts Council writer-in-residence at University College, Dublin.
http://www.declanhughesbooks.com/
Declan Hughes' residency is sponsored by John and Jill Bishop.
This program is supported by the UCSB Summer Sessions Cultural and Enrichment Grant.