The Watsons Go to Birmingham — 1963 adapted by Cheryl L. West
Based on the book: "The Watsons Go to Birmingham — 1963" by Christopher Paul Curtis
Thursday, August 30 / 7:30 PM / UCSB Art, Design, and Architecture Museum
The Survivors/Los Sobrevivientes by Katie Bender
Saturday, September 8 / 12:30 PM / UCSB Studio Theater
The Myths We Made by Brian Otaño
Friday, September 14 / 7:30 PM / UCSB Studio Theater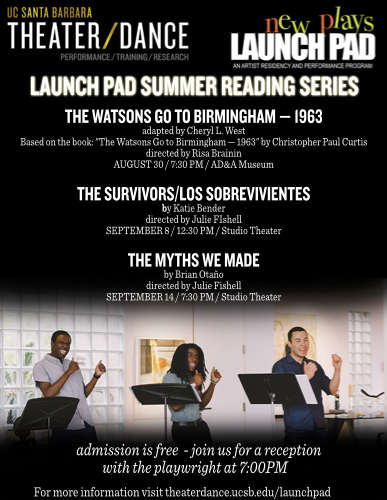 The Watsons Go to Birmingham — 1963
Based on the book: "The Watsons Go to Birmingham — 1963"  by Christopher Paul Curtis
Adapted and written by Cheryl L. West
Directed by Risa Brainin
The Watsons Go to Birmingham, 1963 LAUNCH PAD, in a co-commission with Seattle Children's Theatre and Chicago Children's Theatre, presents a brand new adaptation of acclaimed author Christopher Paul Curtis' groundbreaking, timeless work, The Watsons Go To Birmingham- 1963. The play centers on a buoyant, loving Michigan family of five travelling south to Alabama during the turbulent summer of 1963, a time of racially motivated upheaval and civil unrest. Ten-year-old Kenny is conflicted about this family vacation, but as his world expands, Kenny learns he's more courageous than he ever thought himself capable. 
Family-friendly, ages 9 and up.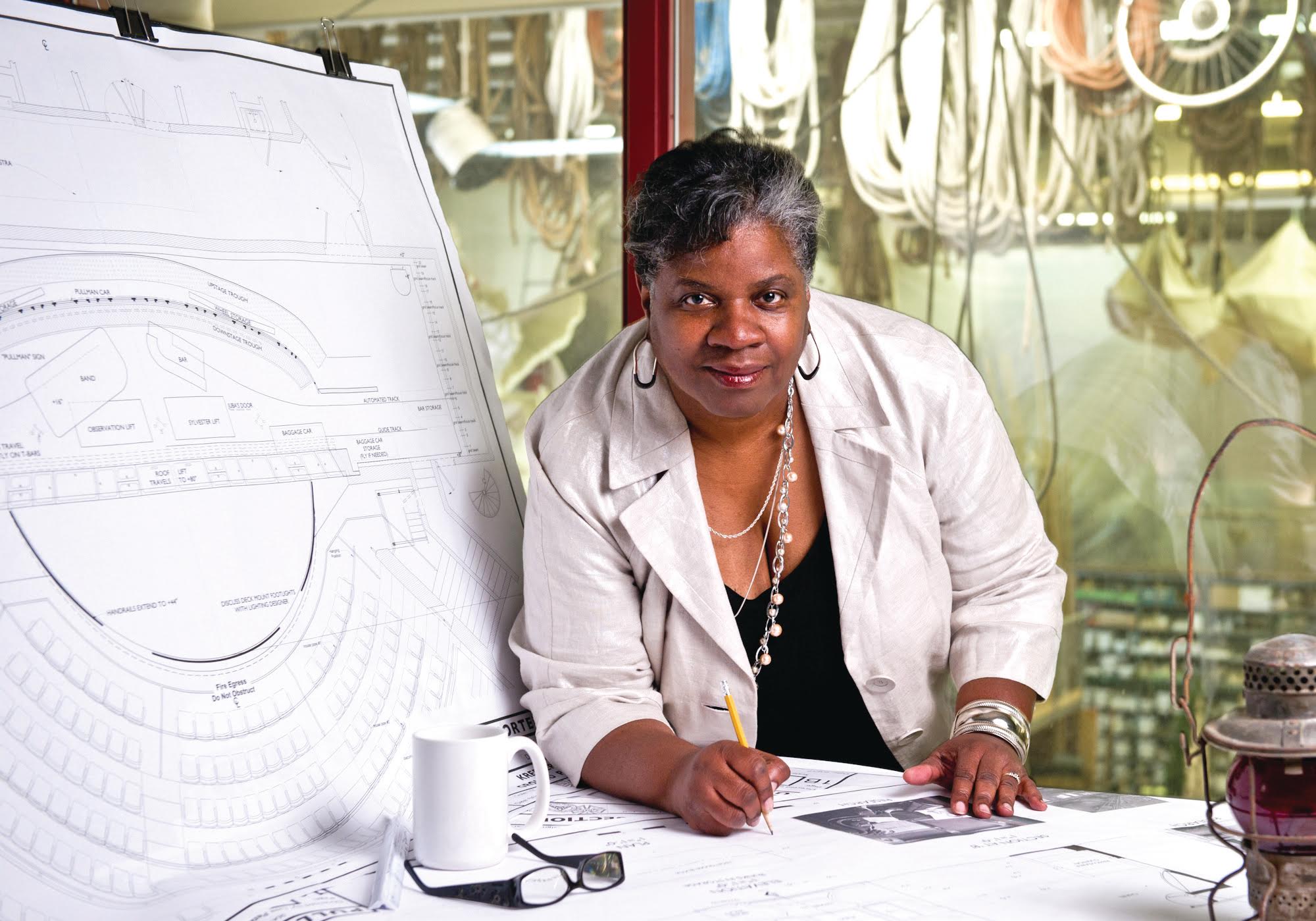 Cheryl L. West's plays have been seen in England, off-Broadway, on Broadway (Play On!) and in numerous regional theaters around the country. Her plays include Shout Sister Shout, Akeelah and the Bee, Pullman Porter Blues, and Jar the Floor.  She has written TV and film projects at Disney, Paramount, MTV Films, Showtime, TNT, HBO, CBS and is the Webby-nominated writer for the original web series Diary of a Single Mom.  Ms. West is currently working on commissions for Seattle's 5th Avenue Theater, Oregon Shakespeare Festival, Chicago Children's Theater, Minneapolis Children's theater, and Seattle Children's Theater.
The Survivors/Los Sobrevivientes  by Katie Bender
Directed by Julie Fishell
The Survivors/Los Sobrevivientes is based on the historically documented group of women, children and slave people who survived the battle of the Alamo.  It's an epic historical drama told by a diverse ensemble of people who didn't make it into the history books. It's an intimately drawn look at the surprising alliances necessary to survive the shifting rule of Mexico's fledgling democracy.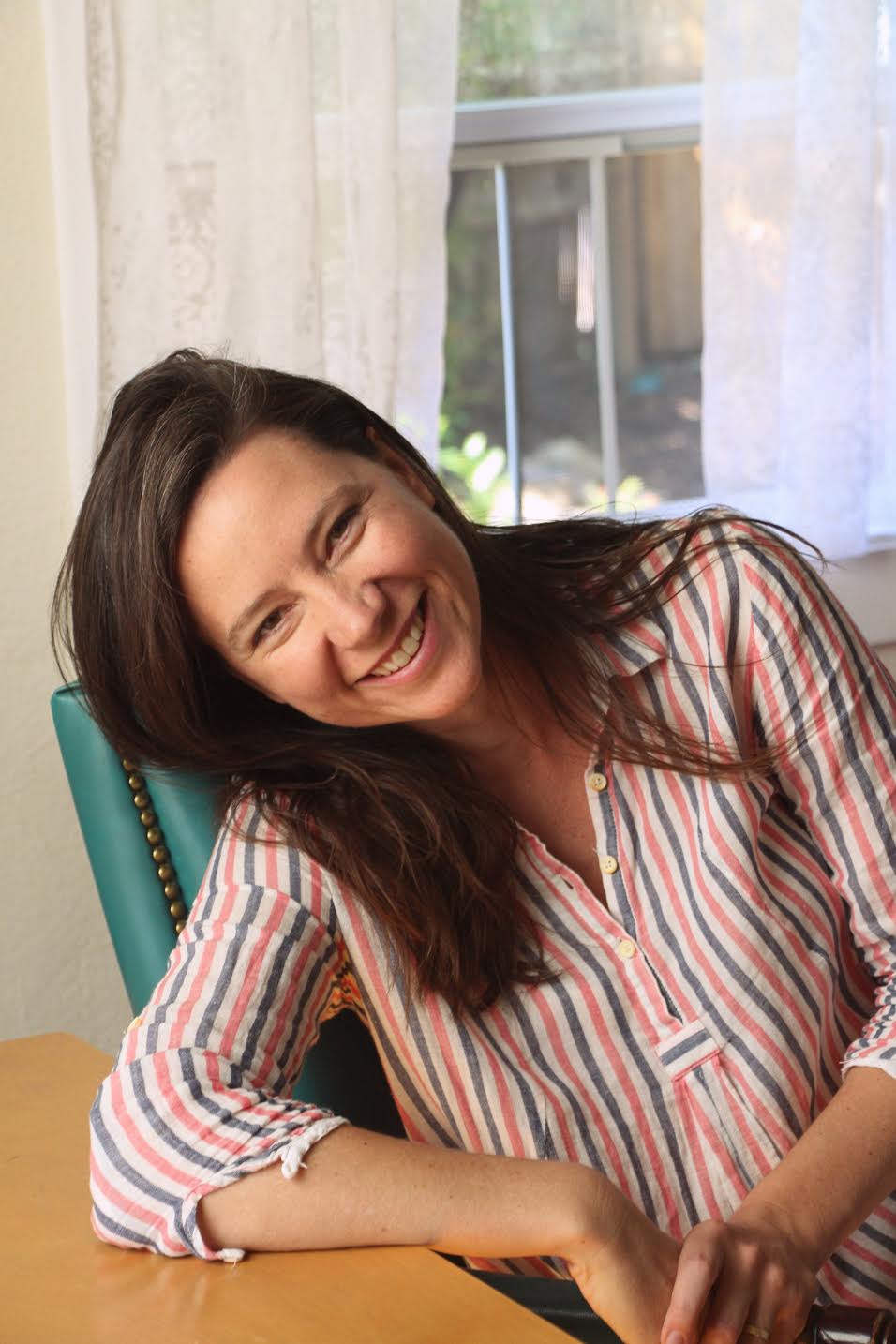 Katie Bender is a playwright and theater maker. Her plays include Still Now, The Fault, One Night Only as well as collaborative work with Underbelly. Her work has been developed or produced at The New Harmony Project, Kitchen Dog, The Orchard Project, Shrewd Productions, New Victory LabWorks, Icicle Creek Festival, Ensemble Studio Theater, ZACH Theatre, Heart and Dagger and The Playwrights' Center, where she was a 2016-2017 Jerome Fellow.  On the 2015 Kilroys List, a finalist for the inaugural Shakespeare's Sister Fellowship, and a 2017 Jerome travel grant recipient, she is currently playwright-in-residence at the Susanna Dickinson Museum. MFA: UT Austin.
The Myths We Made by Brian Otaño 
Directed by Julie Fishell
The Myths We Made: In the aftermath of Hurricane Sandy, the Linares family attempts to put the pieces of their once-idyllic life back together after their Brooklyn home is flooded. When the family tears down their aboveground pool and discovers a long-buried corpse underneath it, they must face down the legacy of violence they share with the ghosts living next door and decide on a path for their future. 
Brian Otaño Brian Otaño is a bi-coastal playwright and TV writer. Most recently, he co-wrote You Across From Me, the 42ndHumana Festival PTC show at Actors Theatre of Louisville. Other plays include The Dust, Tara, Zero Feet Away and The Dooley Street Trilogy: Between the Sandbar and the Shore, What We Told the Neighbors & The Myths We Made. Brian's plays have been developed and workshopped with Roundabout Theater Company, Page 73, The Parsnip Ship, Ars Nova, New York Theater Workshop, Atlantic Theater Company, IAMA Theatre Company (LA), Celebration Theatre (LA) and Milagro Theater (Portland). This year, Brian was admitted to Center Theater Group's Writing Cohort and Geffen Playhouse's Writers' Room. Previous residencies and fellowships include New Dramatists Van Lier Fellowship, P73's Interstate 73 Writers Group, New York Theater Workshop 2050 Fellowship, ArsNova's Playgroup, Space on Ryder Farm, Disney ABC TV Writing Program (Finalist/Alternate) and the NHMC TV Writers Fellowship. Education: BFA, Dramatic Writing (SUNY Purchase).